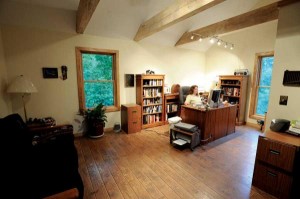 One of the things we did right in designing The Belle Writer's Studio is making sure I had enough room for both office space and sitting space, in case I wanted to relax while reading for research or even work from my laptop in a more comfortable chair.
Until now, we only had the futon in the studio. I've felt for a long time that it was missing a nice, comfy chair, but I hadn't found one that wasn't both small and comfortable.
That was, until a couple of years ago when we visited the lake home of a friend of ours in Kansas.
They had a smaller brown chair that as vinyl, was functional for a lake style home (it just needs to be wiped down and if someone sits on it while wet, it really doesn't hurt anything) and didn't overpower their small space.
I fell in love with the chair at first sit, but they couldn't remember where they had gotten it.