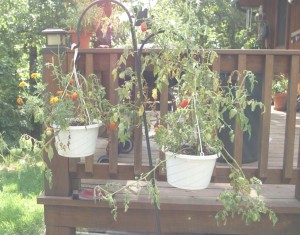 The end of July, I can­not believe the sum­mer is almost past here at Our Little House.  Sure, the long term weather fore­cast says we still have at least a month left of these oppres­sively hot and humid tem­per­a­tures, but once July is gone, I feel the sum­mer slipping.
This too, is ingrained in my DNA from child­hood. July 31 marked the end of my Dad's month long vaca­tion from his long-time rail­road job and August 1 marked the begin­ning of school clothes and sup­ply shop­ping (the rail­road paid once a month on the 1st) and the den­tist and doc­tor check ups.
While there were still plenty of days to run, bike and play and evenings to catch fire­flies the end of sum­mer was just around the cor­ner, as school usu­ally started by the 3rd week in August (as it does here now). My stay­ing up late with my mother also came to and end as she tried to get me back into a routine.
It was a time to begin to hun­ker down, spend more time indoors and get seri­ous about life again.