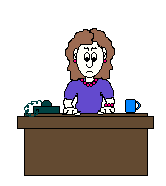 Some peo­ple may think that being out here at Our Little House in the woods saves me from hav­ing to deal with peo­ple in the out­side world, but the truth is that I have a lot of inter­ac­tion with peo­ple as a free­lance writer.
I'm con­stantly call­ing peo­ple on the phone, if not meet­ing with them in per­son. I love learn­ing and con­sider some­one I'm inter­view­ing a sub­ject mat­ter expert on what­ever topic I may be writ­ing about on any given day. I would even char­ac­ter­ize most of my inter­views as fun.
However, I am some­what secluded from the out­side world and I wrote last month about how I believe that quiet and peace has hope­fully, made me a bet­ter per­son and a bet­ter friend.
I've also found that peace and seclu­sion works both ways and has made me less tol­er­ant of the 1 per­cent of fools I have to call who aren't very pleas­ant. Friday started off with one such phone call. An attor­ney returned my call, so I was not expect­ing his call at that time and was work­ing on another piece when he decided to grace my day with his presence.