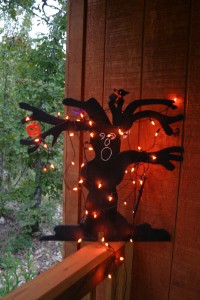 One fall, my mother allowed me to choose some wax Halloween fig­ures at the Dime Store to help dec­o­rate our house. She spent a dime to .49 cents for the lit­tle wax witches, ghosts and pump­kins. That was in the 1960s.
I've read these days that col­lec­tors think they're worth much more, but to me, it's really all about the sen­ti­men­tal value of these lit­tle scary guys.
A cou­ple of week­ends ago, we spent one whole day going through the approx­i­mately 100 boxes of stuff in our metal stor­age build­ing look­ing for those fig­ures, as well as the rest of my hol­i­day sea­son décor.
Yes, it's true; nearly two years after our move, we still are deal­ing with stuff, and this is the stuff that has sur­vived two purg­ing episodes – one before, and one after the big move.