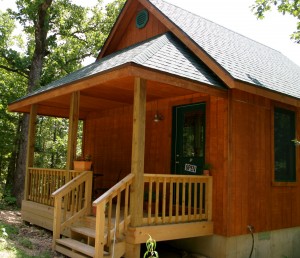 A pho­tog­ra­pher came to shoot our house on Friday, as a photo spread of our spread is going to accom­pany a story I wrote on The Little House for a mag­a­zine and we talked about how to present the pho­tos so it isn't con­fus­ing to the read­ers which build­ing is which.
There are so many build­ings here, I think it can be a lit­tle con­fus­ing to those just try­ing to pic­ture it, as The Little House looks a lot like The Belle Writer's Studio and the two metal build­ings also look the same.
My hus­band likes to tell peo­ple, "We don't have the biggest, but we have the most!" I've dubbed the drive down the wind­ing dri­ve­way, "Campbell Town," and have even thought of get­ting some of those old time signs to label the build­ings to add a lit­tle fun and fla­vor to the place.