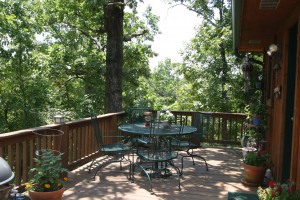 We had a great week­end this past week­end as my friend, and Living Large com­mu­nity mem­ber, Kathleen Winn, paid us a visit.
Entertaining in a tiny/small home is always a chal­lenge – espe­cially when there are six dogs under­foot – but I think Kathy had as good a time as we did.
She good naturedly allowed the dogs their "wild time" as they always get very excited to see peo­ple other than me and Dale (although I gave her free reign to tell them, "enough") and said Our Little House didn't feel as small as 480-square feet sounded and didn't feel cramped, but rather, "cozy."
As well, we didn't spend a lot of time at Our Little House, as I wanted to show her around the area too. We took long walks on our road, vis­ited a cou­ple of my favorite retro/antique stores, ate a nice Asian lunch (I had sushi, Kathleen had Chinese at the same restau­rant), spent some time on our beau­ti­ful lake, ate a nice din­ner of bacon wrapped shrimp and even did some tar­get shooting.
When we were home, we made use of the Party Deck. It's always good to have out­door liv­ing spaces in a small home.
It's also great that we have The Belle Writer's Studio, which is equipped with a fold down futon and its own bath­room, which gives us and guests plenty of privacy.
We don't enter­tain overnight guests a whole lot, maybe a cou­ple of times a year. I like to give our guests a B&B feel when they're here, which means set­ting them up with refresh­ments in the stu­dio, com­plete with cof­fee for the next morn­ing and cold drinks in the mini-fridge.
Unfortunately, I think the biggest glitch to the week­end was that we for­got to turn on the hot water tank to the stu­dio before her arrival. We use it so occa­sion­ally that we typ­i­cally do not pay to keep it on, which also saves energy.
She described her shower on Sunday morn­ing as "tepid."  Oops.
I love hav­ing guests come and stay with us at Our Little House. Last week, I wrote that our first five years here had been full of mixed emo­tions lit­er­ally rooted in feel­ing home­sick for our hometown.
Showing Kathleen around Our Little House, the beauty of our area and what our new home has to offer made us appre­ci­ate even more our move here. This is a side ben­e­fit of see­ing good friends again. Acting as a tour guide, it allows one to see their home in a new light too.
I also imme­di­ately made a mas­ter "to do" list of every­thing that needs to get done before some­one else comes to visit. Maybe they'll even get a hot shower.
Do you have a small space? How do you accom­mo­date guests or what is the biggest ben­e­fit, aside from see­ing friends and loved ones that you've found when they come to visit?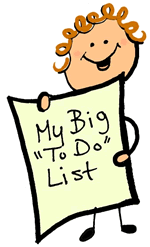 You know how when a project or two is haunt­ing you and it dri­ves you crazy until you can get it complete?
This was how it was for both of us at Our Little House this past weekend.
Dale has been wait­ing since spring for the per­fect week­end to stain the Party Deck. We had an unusu­ally cool and wet spring fol­lowed by an ungodly hot sum­mer. We had per­fect weather this past week­end and time is run­ning out before it gets cold again.
I had been wait­ing for time, mostly, to orga­nize my office once again. I wrote pre­vi­ously about find­ing the per­fect lit­tle mail­box to put on The Belle Writer's Studio, so mail wouldn't be over­flow­ing on the table at the house.
One thing I love about Our Little House being so far out in the coun­try is the quiet.
I can sit in the morn­ing, as I have all this week, on the party deck or on the cov­ered front porch with the Fearsome Four, read­ing the news­pa­per and drink­ing cof­fee with noth­ing but the occa­sional buzz of the hum­ming­birds com­ing for a drink off of the feeder.
However, this sum­mer, there's been an unnat­ural hum ring­ing through the moun­tains that the dogs have even noticed.