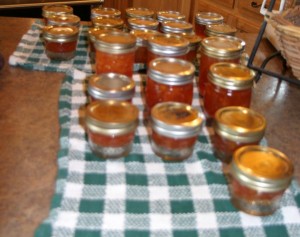 The mysteries of canning have finally been revealed to me.
As I've written before, I've wanted to learn to can since even before we moved to Our Little House. I had written a story several years ago on an older woman, her garden and her canning and although she invited me back for lessons, I never took the time.
When we moved here, I knew I wanted to learn and this year, I even included a bunch of canned jars of fruit on my vision board.
I asked our friends who are sharing their garden space with us if they can. "Oh, no," Alicia told me. "I freeze everything, canning is just so much work."
Rae, our end of the point neighbor, told me she would teach me if I supplied tomatoes from our garden.
This week, however, she supplied a bushel of peaches of which we made peach jam. On the first day, we made sugar laced jam, on the second day it was sugar free.