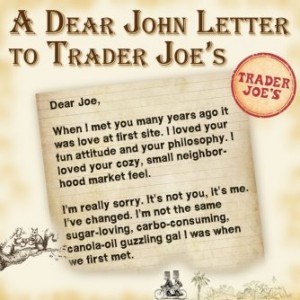 When we visited Kansas City during one of our trips home last year, I was so excited to shop at the city's new addition: Trader Joe's.
For years, I had heard about what a fantastic store this was, especially if you are eating healthy. I had even received some fair trade Trader Joe's coffee one year for a gift.
We brought coolers and I was prepared to fill my cart with fresh organic produce and shop for healthy alternatives that our rural, locally owned natural food stores don't carry.
When I lived in the city, we did have a Whole Foods, but I had long boycotted them for a myriad of social infractions, including how they treat their workers and the fact that they (at the time) would not support labeling GMOs or inform people when their products carried them.
Our Trader Joe's stop was our last errand on our way out of town – I wanted all of those good foods to remain as fresh as possible – and so I entered the store with great expectations.
(Insert fail buzzer here).