Danylle and Sandy: You're the win­ners of the draw­ing of "The Complete Idiot's Guide to Vision Boards." Please con­tact me by Monday, July 4  at fivecoat@​ozarkmountains.​com with your com­plete snail mail address. Thank you all for com­ment­ing and enter­ing! I hope the post was inspir­ing and prompts you to cre­ate your own vision jour­nal or board!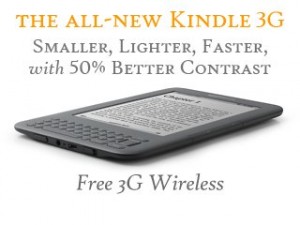 I posted some­time back that I thought I was ready for an e-reader. I love to read and my four book­shelves are crammed full in The Belle Writer's Studio.
I do get books and if they aren't keep­ers, trade them into the used book­store. The library is really out of the ques­tion as the one clos­est to our home is tiny and it typ­i­cally takes two years to get new releases.
I'm a per­son who likes to hold paper in my hand and read. I still have a sub­scrip­tion to the local news­pa­per because I like to sit on the sofa and read with my cof­fee before com­ing over to the stu­dio and read­ing fur­ther online.
That's the rea­son I resisted get­ting an e-reader.
But I was wrong. I love, love, love my Kindle!