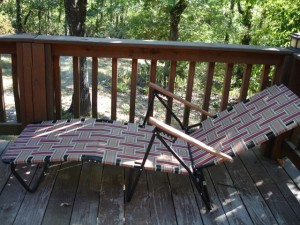 I love hol­i­day weekends.
Dale gets to spend more time with us at Our Little House and time slows to a crawl.
This was an espe­cially nice week­end weather wise. The hot and humid tem­per­a­tures broke on Sunday. Up until that time, we were still hav­ing 100 degree days.
On Monday, we decided on ribs and potato salad for din­ner, which means I got to fin­ish my part of the meal early. Potato salad is much bet­ter when it sits in the fridge all day.

Dale and I have been together a while, this will be our 30th Valentine's Day together. I know, some of you believe that Valentine's Day is just another man­u­fac­tured hol­i­day pro­moted by the greet­ing card, flower and candy com­pa­nies to sell their prod­ucts. Others, such as some of my links on Facebook say, "Bah-hum-bug. We don't need a day to be told to cel­e­brate our love."
Growing up in the home city of Hallmark Cards, we might have been tar­geted for the adver­tis­ing and hype ear­lier than oth­ers.  Of course, we know not just one day of show­ing love and appre­ci­a­tion does a rela­tion­ship make, but what's the harm of cel­e­brat­ing a day of love? It's bet­ter than cel­e­brat­ing a day of hate.