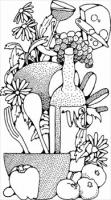 We've given up on try­ing to eat out here and that isn't nec­es­sar­ily a bad thing. I've writ­ten before about how we miss dif­fer­ent types of eth­nic food, but even the restau­rants we have here aren't very good – or good for you.
I was usu­ally caught try­ing to grab some­thing not very healthy the nights I was cov­er­ing meet­ings for the local paper here. On December 30, after I cov­er­ing one such meet­ing, Dale and I stopped to get some­thing just a lit­tle before 8 (most things, includ­ing restau­rants, close by 8).
When we were pre­sented with a meal that was lower qual­ity than what we could have found in a TV din­ner and could barely choke it down, and then pre­sented with a $25 bill for it, I said, "Enough."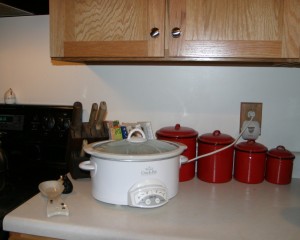 S.A.B.L.E-Please con­tact me this week­end with your address or I will have to draw another win­ner for the Sanyo bat­ter­ies and charger!
_____________________________________________________
There hasn't been a whole lot to do around The Little House since win­ter socked it to us in the form of a 12-inch snow­storm last week. Although the weather was a bit warmer and some of the snow melted off, another storm hit us yes­ter­day which is tak­ing the form between rain, freez­ing rain and they say, snow later this afternoon.
This is where work­ing (writ­ing), read­ing, gath­er­ing stuff for taxes and cook­ing comes in.
Last Saturday, on the sec­ond day of being snowed in, we watched a cou­ple of favorite movies from our col­lec­tion, which brought up the topic of our old lives in the city. We decided if we were still there on a cold win­try day, we would prob­a­bly would have been sit­ting at our favorite Mexican restau­rant with our friends and neigh­bors who lived across the street from us, enjoy­ing a pitcher of beer or margaritas.