Wow! Thank you to every­one who par­tic­i­pated in the com­ments on rais­ing your own chick­ens. Marty is the win­ner of the book, "The Complete Idiot's Guide to Raising Chickens," but even if you didn't win, you can still get the book here. Marty, you need to email me at fivecoat@​ozarkmountains.​com by tomor­row (Thursday, June 3) at 2 p.m. CST with your con­tact info, includ­ing snail mail address and phone #, or I will have to draw another win­ner.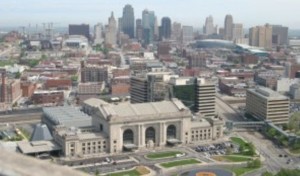 We were able to leave Our Little House and make a visit home this week­end, to our native Kansas City.
Dale hadn't been back to the city since November 2008 and I hadn't been there in a lit­tle over a year. What we learned is that you can go home again, you just have to be pre­pared for it to be different.
I had some research to work on for a cou­ple of assign­ments. We also had lots of plans for this week­end that included see­ing a few friends, tak­ing walks from our hotel, The Raphael, to the Country Club Plaza, and of course, eat­ing at some of our old favorite haunts.