Decorating a lit­tle house is a chal­lenge any­time of the year, but the hol­i­days present more challenges.
When we moved from our larger house in the city, I had boxes upon boxes of hol­i­day dec­o­ra­tions, includ­ing a large and a small tree, kitchen décor, bath­room décor and décor for the porches and exte­rior doors.
I now have to be very selec­tive, putting out only a few small hol­i­day dec­o­ra­tions that can have a big impact to the room.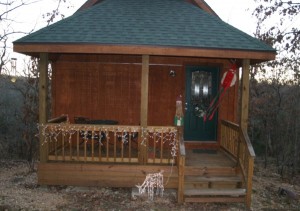 If you cel­e­brate Christmas, I hope you had a very Merry one, and I hope, if you had the oppor­tu­nity for some time off, that you enjoyed some down time with fam­ily and friends, hearth and home.
The thing about hav­ing a small space and cel­e­brat­ing Christmas is that you have to find the room to put the stuff you just got. Granted, we didn't get much stuff, I asked for things I needed from Dale – a bot­tle of good smelling burn­ing oil, some lotions, and sweats (my work wear). We also got a few other things and lots of candy and var­i­ous food items. Still, all of this stuff had to find a home in the pantry and clos­ets to keep to my mantra of "a place for every­thing and every­thing in its place."