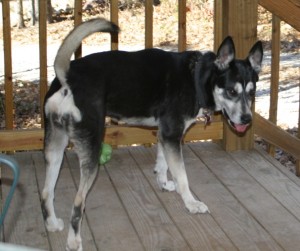 We all know that life can turn on a dime, but when I hear peo­ple say that it is usu­ally not due to some stroke of good for­tune, but some­thing we per­ceive as a challenge.
Take yes­ter­day at Our Little House, I had my day all planned and it began on a good note.
I let the dogs out and got to work early. The sun came up and it promised to be a gor­geous, 65+ degree day with a wind, per­fect for doing laundry.
And then, well, every­thing went south or turned on a dime, as they say.

When the weather last Saturday was a warm 70+ degrees, we decided to take the dogs for a walk.
My mom used to use the expres­sion, "Go out­side and get the stink blown off of you," and that was partly what we were try­ing to do on Saturday – literally.
The night before, Chloe and Abbi, who have taken up the sec­ond gen­er­a­tion that love to roam the woods, got skunked.
Emma, who also used to roam with Sade, got hit once.
While it usu­ally only takes once before dogs real­ize what dam­age these black and white stinkers can inflict, once is more than enough, espe­cially in a lit­tle house.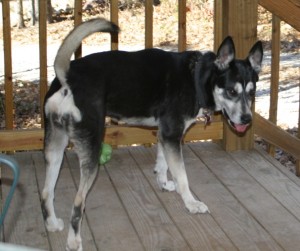 This time, I only intended on spon­sor­ing a dog from the shel­ter to res­cue, but as Living Large read­ers have quoted John Lennon so many times: "Life is some­thing that hap­pens when you're mak­ing other plans."
We have a new mem­ber of our fam­ily at Our Little House. Right now, she is offi­cially a fos­ter, but well, you know….
The res­cue doesn't name their dogs, as they don't want a dog to get famil­iar with a name and then have it changed, but I can't stand not nam­ing them, so Abbi it is. I wanted to name her Annabel Lee, after my favorite Edgar Allen Poe poem, but Dale thought it too creepy.
Abbi is a fence jumper/digger. She was given up because she wouldn't be con­tained in a sub­ur­ban yard and when she got to res­cue, they had to build her a spe­cial run as she wouldn't be con­tained there either.
Last week, she got out of her spe­cial run and killed the son's duck. In addi­tion to deal­ing with her son's grief, the owner of the res­cue knew now that this poor dog couldn't be in the sub­urbs or on a farm.
Our Little House, sit­u­ated near nei­ther, is perfect.