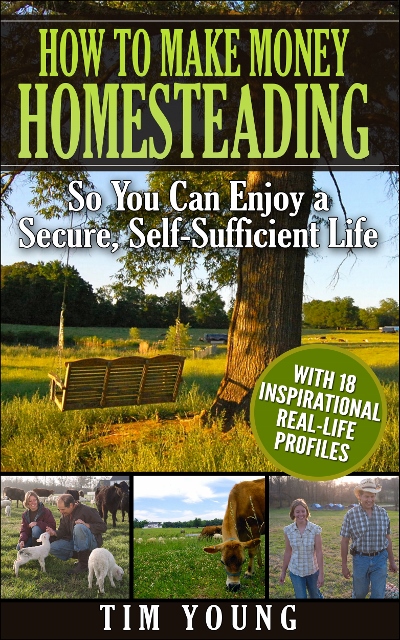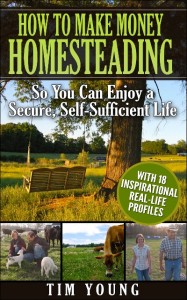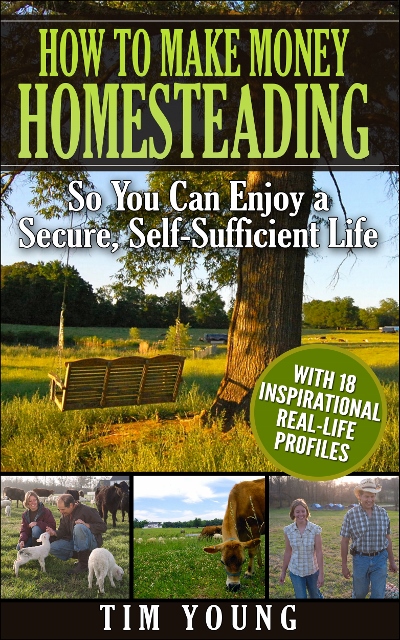 Since many people are looking at New Year's goals, I try to recommend a few books this time of year that could help Living Largers achieve their dreams. Many people have asked for ideas on how to make a living from home while living a simple, rural life.
Tim Young put together some of those ideas in his e-book, "How to Make Money Homesteading."
Tim is also giving one Living Larger a chance to win a download of the book for free. Read the short Q&A, make a comment on this post on why you would like to read the boo and like Living Large on Facebook (if you haven't already). Comments to this post must be made before 5 p.m. CST on Thursday, December 11. I will draw a winner and announce it on the blog on Friday. You must leave an email address where we can reach you if you win.
Living Large: How did you come up with the idea for the book, what  is the purpose?:
Tim: Like a growing number of people in the past decade, we are first-time farmers/homesteaders who moved from urban life to rural life. There's a ton to learn when you make that kind of transition, much of it related to how to grow food, tend to livestock and develop skills that enable you to produce what you need rather than consuming and buying, as most people do. However, there's another very real need that most new homesteaders realize when they take the leap, and that need isn't written about as much. It's the need to make money so that you can enjoy the freedom of living independently off the land. In the decade we've been homesteading and farming sustainably, we've explored numerous income producing areas that range from offering meats and dairy to classes and events and, of course, writing and online ventures. With How to Make Money Homesteading, I wanted to share some of our experiences, but really wanted the content to be broader than our own personal story. So I researched and sought out 18 other homesteaders/preppers/small-scale farmers, such as yourself, and shared their stories as well. Taking the leap from a world of suburban convenience and comfort is daunting for most people, so I wanted readers to see how many others have done that…and lived to tell about it. The primary aim of the book was to offer ideas of how income can be produced, rather than to show in step-by-step detail how to make money in any particular endeavor. In the end, each person has to consider their own markets, experiences, resources and desires to choose the best path for them. It is my hope that this book can give them the inspiration and ideas they need to get started.
Living Large: What is one of the most interesting stories of how a person is making a  living homesteading?:
Tim: I was surprised to see how many people, including yourself, are supporting their homesteading life through what many would refer to as "non-traditional" homesteading activities. These include freelance writing, consulting, blogging, e-commerce sites and DIY manuals, selling essential oils and so on. Sure, there are many examples in the book of folks selling wood crafts, cheese, soaps and more "normal" homestead products, but technology has bridged the gap between many people's life experiences and distant markets, enabling them to take the leap with increased confidence.