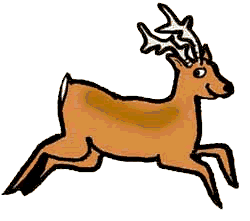 Some people think you can only experience culture shock when going from one country to another, but moving from the city to the country, and I suppose visa versa, is a culture shock as well.
There's no other time of year that points that out to us more than fall.
This past weekend was the beginning of open hunting season here. As a local newspaper column lamented, it either draws the excitement compared only to that of a child on Christmas morning, or it is the most dreaded weekend of the year.
For us, it is the latter.
The first year my aunt lived here, hunters, who were then allowed to run their dogs anywhere they were chasing deer, including on private property, threatened to come back and burn down her house when she told them they weren't allowed to hunt her 40 acres.
Don't get me wrong; I'm not using this forum to start a debate against hunting. I'm just particularly against the BAD hunters, and we seem to have a lot of them.
My friend, whose husband hunts, tells me there are a lot of good hunters – and that might be – but it hasn't been our experience.