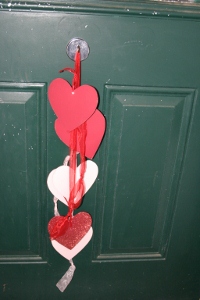 Ok, I've always been a sucker for Valentine's Day, that quasi-made-up holiday that drives consumerism and helps greeting card companies.
When you've been with someone for 33 years and married for nearly 26, you know part of the deal is sharing and expressing appreciation for that love more than one day a year, but Valentine's Day does give a foundation to help support that love.
Watching the snow fall yesterday, I was thinking of the most memorable Valentine's Day, which was the first one we were together.
It was 1980, I was a sophomore in high school and Dale had already graduated and was working full time.
He wooed me a lot back then by surprising me with gifts and he outdid himself on Valentine's Day by having a dozen roses sent to my high school.
Nothing earned the "best boyfriend" envy of other girls in my school more than seeing me get roses, delivered to my French class by the office secretary (who happened to be Dale's aunt).
The second most memorable had to be the heart shaped waffle maker he bought me sometime after we married, one I still use here at Our Little House.
The next Valentine's Day that sticks out in my mind is the one five years ago, when my mother was in the hospital.