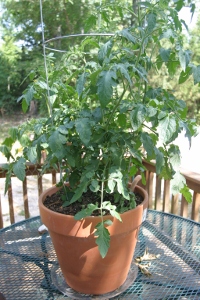 Mother's Day did not start out well for me.
When I got up, Dale said, "Something got one of the tomato plants last night."
I went out to the party deck and sure enough, two of the three roma tomato stalks had been sheared off almost at the base.
When I wrote about tomatoes and rats a couple of weeks ago, I was writing a general update on what was happening on the deck, I didn't necessarily think the rat would eat at the tomato plants, but now I'm not so sure.
We've been wondering what has been attracting rats up on our deck since we don't keep dog food or anything else out there.
One night last week, I took Molly and Dakota out for their before bed potty excursion and Molly immediately started chasing a rat on the deck.