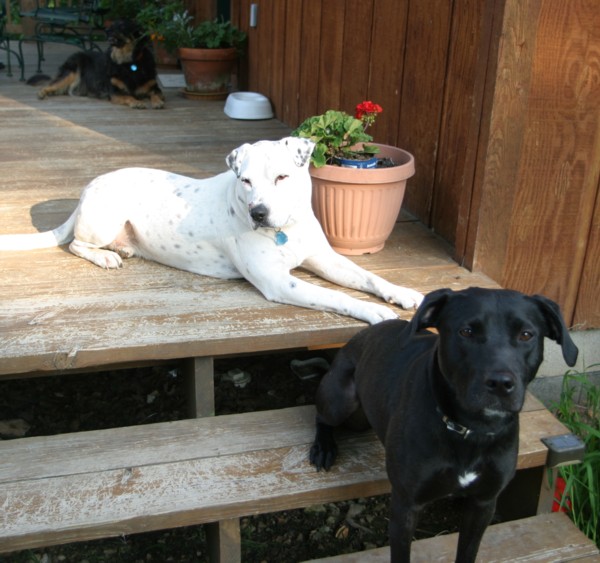 When we moved to Our Little House in 2007, we arrived with 4 dogs and 2 elderly cats. Living in a small space with pets is not easy, just like with everything else in a tiny house, it takes a lot of planning.
After watching the third episode of Tiny House Nation on the FYI channel on Wednesday night, let's just say I was more than disappointed.
As the host was looking at the pile of clothes on the bed to be donated, he said, "As I look at this pile to donate, I can't help but notice there is a cat sitting in the middle of it. Have you decided what you're going to do with them? Because that is a big concern."
The couple, who was downsizing to save money so they could travel the world, had one dog and two cats. The 8-year-old cats didn't get along with the dog and they had them separated in their large house by keeping them on separate floors.
I was disappointed in the show, but not surprised. After the host asked the family last week if their dog could "become an outside dog" I knew it wouldn't be long before someone on the show gave up their pets to live their tiny house dream.
(The family in that episode said that their dogs could not stay outside due to the rural location and they were afraid for their safety. This is just one reason a pet conditioned to living inside should not suddenly be exiled to being an "outside" pet).
The BIG thing I have a problem with in this last episode was that the cats were being presented as things that needed to be dealt with like the clothes and the guy's home brew operation that he had to give to a friend.
As a matter of fact, the show's host even called both the home brew operation and the cats a "sacrifice" that was going to have to be made.
PETS ARE NOT DISPOSALBE inanimate objects. They are living, breathing beings.