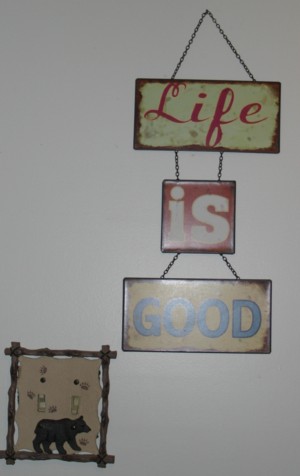 I finally got in the mood to decorate my walls in Our Little House. I guess after living here full time for over three years, it's about time.
Like I told a friend of mine, no one can ever accuse me of decorating on a whim!
I'm not comfortable with decorating anyway and I think one of the things that intimidated me about decorating such a small space was the fear of cluttering the walls and overwhelming the space.
I had three hangings I had put up when we built Our Little House, all cute things, albeit small, that went with the cabin feel theme.
We received a couple of things for my birthday and Christmas, so my problem moved from being afraid of buying things too big for the space, to where to hang them.
I also bought the "Life is Good" sign while in Branson for Dale's birthday. It's my motto and I thought a great thing to see everyday, just to remind us.