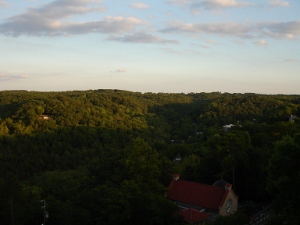 This weekend, we had the opportunity to go to Eureka Springs, about a two-hour drive from Our Little House. Dale and I have been there several times and my parents always vacationed there when I was a kid.
I was on assignment from three different publications to write about haunted hotels. I love these types of assignments. I'm fascinated by history (especially American Victorian Era) and by the paranormal, so these assignments are truly fun for me.
I'm also a chicken, so Dale gets the job of being my protector on all night ghost hunts and is also tasked with taking notes of our surroundings while I shoot the camera.
Until this weekend, I would say the most fascinating assignment we had ever been on was staying the night at Jesse James' boyhood home in Kearney, Missouri. I was there as a reporter for the Associated Press to write about one of those paranormal investigations. Unfortunately, the only thing we experienced were raccoons in the attic, which led to an unworldly smell.
Reportedly, one of the most haunted (some would argue THE most haunted) hotel is the spectacular 1886 Crescent Hotel in Eureka Springs, where we stayed Saturday night.