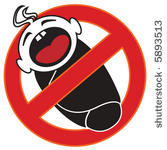 Headlines scream, The No Kids Allowed Movement is Spreading!
The subject seemed to pop up everywhere last week, from newscasts, to blogs and social media.
Ironically, my week started last week a little on this theme. Last Sunday, while Dale and I were enjoying a breakfast at our favorite country café, we heard someone do something that took us both aback.
As a large group of family members sat squeezed into this small eatery, a child, probably age 4 or 5 began to whine. An older man (presumably grandpa) leaned over and said quietly, but in a firm voice, "You're going to stop that because no one else in here wants to listen to that while they eat."
No threatening with violence, jerking him up and storming out of the place or threat of a "time out." Everyone in the cozy café enjoyed their meals, including Mom and Dad.
It was a refreshing thing to see a parent/grandparent actually parent. The boy obviously knew grandpa meant business. More importantly, the boy knew what was expected of him in a restaurant.
I couldn't tell you the last time I saw that happen.