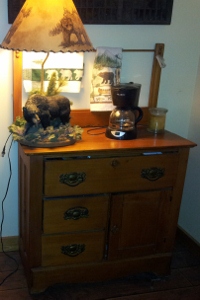 Stuff.
We buy it, we find room for it in our homes, we clean it, pack it, move it, store it and sell it.
For most of us, stuff becomes an obsession until we no longer own it, but it owns us.
When we moved to Our Little House from a 1,100 square foot house packed with stuff, we realized just how little room we needed once we got down to it.
We were accidental in the Small House Movement, finding out through living it how freeing living without our stuff could be.
The problem became what to get rid of, as I not only had our stuff we had accumulated through 21 years of marriage, but we had my mother's stuff, some of it sentimentally priceless.
Here's the process by which we eliminated (and continue to eliminate) stuff from our lives: