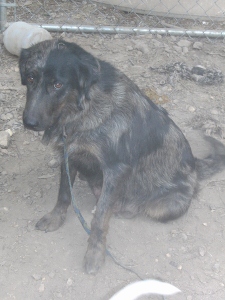 Several weeks ago, while taking Abbi to one of her many vet appointments since she came to live with us, I couldn't help but notice a man signing the release to have the dog that was with him killed. (Note: I only use the term 'euthanize' when it is done to relieve the suffering of an animal).
The dog seemed timid, but I could tell she was young. I couldn't help but notice she had recently had pups, very recently.
He came to the counter and shaking, signed the form. He had tears in his eyes. I wasn't going to ask but was glad when another woman there with her dog did.
The man said that the dog had wandered up to his farm a couple of months prior. They soon realized the dog was pregnant. He and his wife had taken her in, named her Blair and taken care of her puppies. The litter was barely weaned, but he said he felt he had no choice but to "put her down" because she was chasing and killing his chickens.
As he was led to the back, I paced the waiting room and worried about this poor dog, her only crimes being abandoned and then following her instincts with poultry.
We were led to a room fairly quickly and I barely heard what the vet had to say about Abbi's latest medical issue.
"Are y'all really going to put that healthy dog down?" I asked.
"Are you interested?"