Making the Move: Deciding on Your Tiny House Dream
Dale and I had the opportunity this past weekend to visit the places our tiny cabin dream really began, two resorts we stayed on Table Rock Lake in Branson, MO. from 1988-2001. If you're looking to downsize, I always recommend staying in tiny places first.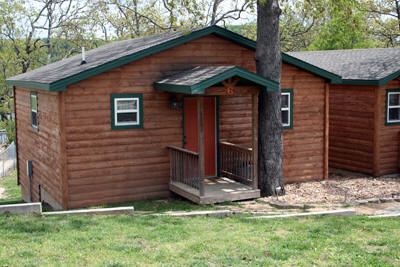 We were saddened to see one of the cabin resorts in disrepair and closed. Its first cabin was very rustic and was built in the 1950s and 60s and that was the first vacation we ever took as a married couple. The resort owners added more log cabins in the late 1980s, it's a shame because if they had been maintained properly, there is no reason for them to be closed.
The second resort, White Wing (cabin pictured above),  was still up and running and had been renovated. They actually looked better than when we stayed there. We loved it because it was still on the water but still close to attractions such as Silver Dollar City. We had abandoned the first resort for White Wing as as the first resort didn't take pets and we were then traveling with our dachshund, Hershey.
But I digress. We only stayed in these two before we built Our Little House in 2003. If we had to do over again, we would have stayed in more. Getting an idea for size and what you do/don't need and what you expect from your small space is the most important decision you'll make in your tiny house move.
When you are finished building you don't want to be saying, "I wish we had/didn't have."
So, the first thing you need to do is decide how much space you need and making a list of the amenities you want and can't live without. The best way to do that is to stay in as many small spaces as you can find on weekends and during vacations. When you do, here are some questions to ask yourself:
Can I live with only a shower?
Can I live with a composting toilet?
How much storage will I need?
What are some of the heirlooms/sentimental items I can or can't live without?
Can I sleep in a loft (and is it sustainable for the long term?)
Do I want my house to be permanently placed or do I want to tow it?
What is it that I do/don't like about the space I'm staying in?
I suggest you get a small notebook to keep all of your small house notes in.
There are SO many more options now for spending a night or weekend to try before you buy. National and state parks are wonderful places to stay and they're usually cheap (and even cheaper in the off season). I even saw one cabin for rent in a state park the other day for $35 a night!
You don't even have to leave your area to start investigating small spaces. Google:
Your state + state and national parks lodging
Your local Airbnb listings
Your area + tiny house hotels
Craig's List tiny house rentals (be careful with CL, though).
Next week, I'll give advice on deciding on a tiny house on wheels or on a foundation and finding land.
You can find more great tips, as well as stories about a dozen other tiny house dwellers in my new book, "Living Large in Our Little House: Thriving in 480 Square Feet With Six Dogs, a Husband And One Remote…Plus, More Stories of How You Can, Too."
Did you or are you investigating small spaces before you build/buy? What surprises have you found?