Living Large in the Kitchen: Crispy Baked Italian Chicken
Warmer weather is here, which means that along with the winter sweaters, it's almost time to put away the comfort food from the oven for the season. But, there might be time for a couple of more oven dinners like my Living Large Crispy Baked Italian Chicken.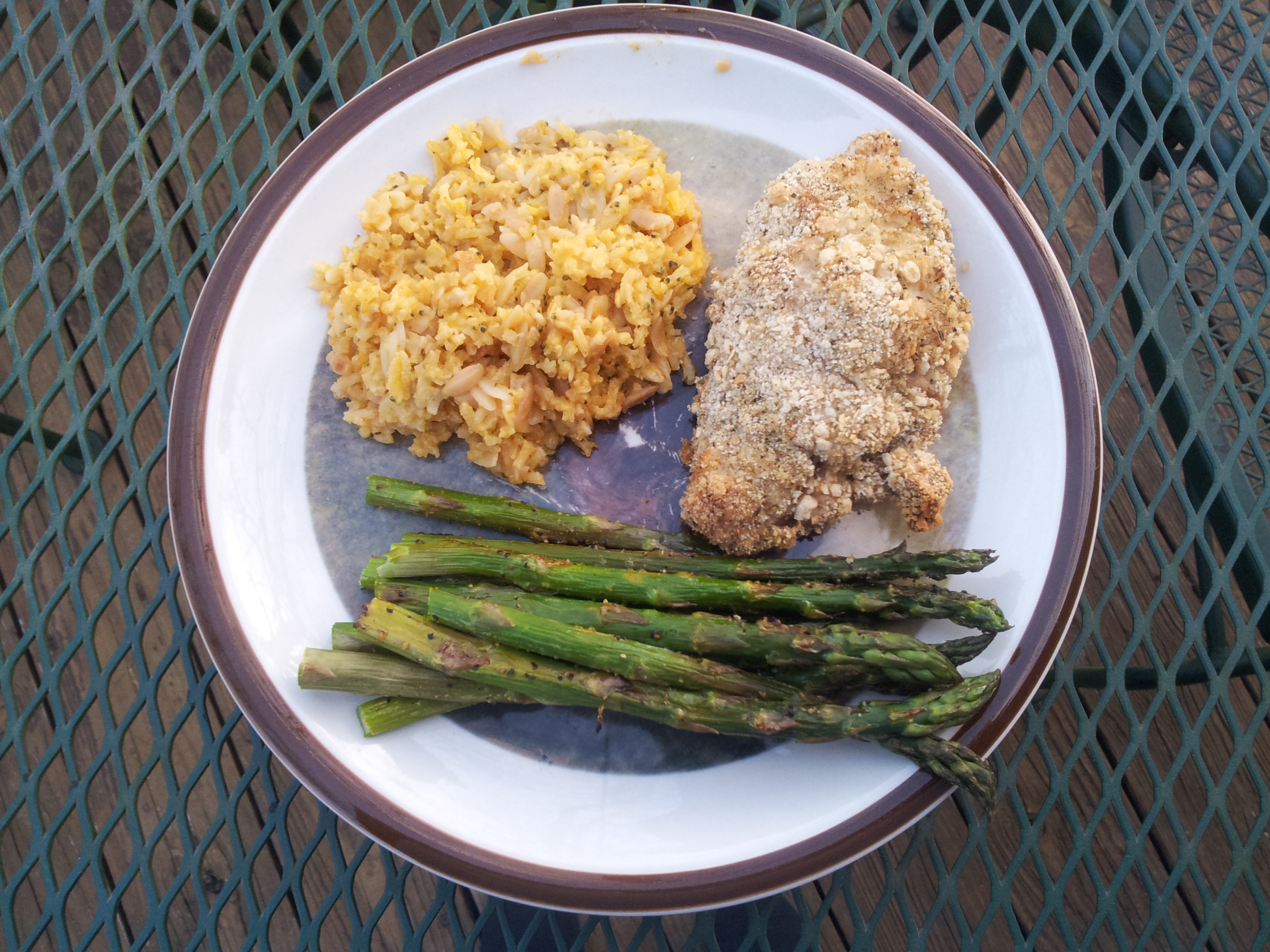 We've almost completed all of our spring chores. Dale took our left over firewood from the porch and stacked it for the summer. I've rotated the closet, pulling out our warm weather wear and putting away my comfy sweaters and Dale's flannel shirts. In the spirit of one-in, one-out rule, I also sacked some clothing we hadn't worn to give to charity and took stock of what I might need to do book signings this summer for "Living Large in Our Little House: Thriving in 480 Square Feet With Six Dogs, a Husband And One Remote…Plus More Stories of How You Can, Too."
I still need to plant my tomatillos, tomatoes, cucumbers and peppers I bought last weekend in my container garden. Dale is waiting for the pollen strings (I have no idea what they're really called) to quit falling from the trees to wash the window screens and the decks. So, we're almost set for summer.
In the midst of doing all of our stuff around the house, I needed a quick and tasty new recipe. I can no longer claim to be a vegan, as I was three years ago, but we still eat a largely 90 percent vegetarian diet at home. Dale gets restless with vegetables, though, and I admit that I sometimes get the hankerin' for chicken.
I saw some boneless, skinless thighs (our favorite) at our local natural food store, which only sells free-range meat that hasn't been infused with chemicals and antibiotics. I bought a package, not knowing what I was going to do with them.
I wanted a crispy chicken, but didn't want the calories and unhealthy results of frying, so I came up with a crispy baked chicken recipe packed with flavor. The secret to the crispiness is brown rice flour. You can use regular flour, but I'm not sure it would get as crispy.
Dale labeled this new recipe a "keeper," so I thought I would share.
Living Large Crispy Baked Italian Chicken
 4-6 boneless, skinless chicken thighs (or whatever cut you prefer)
1 egg, beaten
2 tbsp. Milk
½ cup brown rice flour
1 cup Panko bread crumbs
1-2 tbsp. McCormick Italian seasoning
¼ tsp. fresh ground pepper (or to taste)
Preheat oven to 400 degrees. Mix the egg and milk together in a bowl. Pour flour onto a plate. Pour the Panko bread crumbs onto a separate plate, mixing in the McComick Italian seasoning and ground black pepper. Rinse the chicken and one piece at a time, coat each side of the  chicken in the flour. Dip the floured chicken into the egg/milk mixture and coat the chicken with the Panko/seasoning mixture, turning to make sure it is fully coated. Place on a baking sheet that is lined with parchment paper (to prevent sticking). Once all of the pieces are coated and in a single layer on the baking sheet, place in the oven and bake at 400 degrees for 30-40 minutes, or until a meat thermometer reads 165 degrees after being put into the thickest piece of chicken. I serve it with rice (rice and cheese broccoli pictured) with some fresh spring asparagus.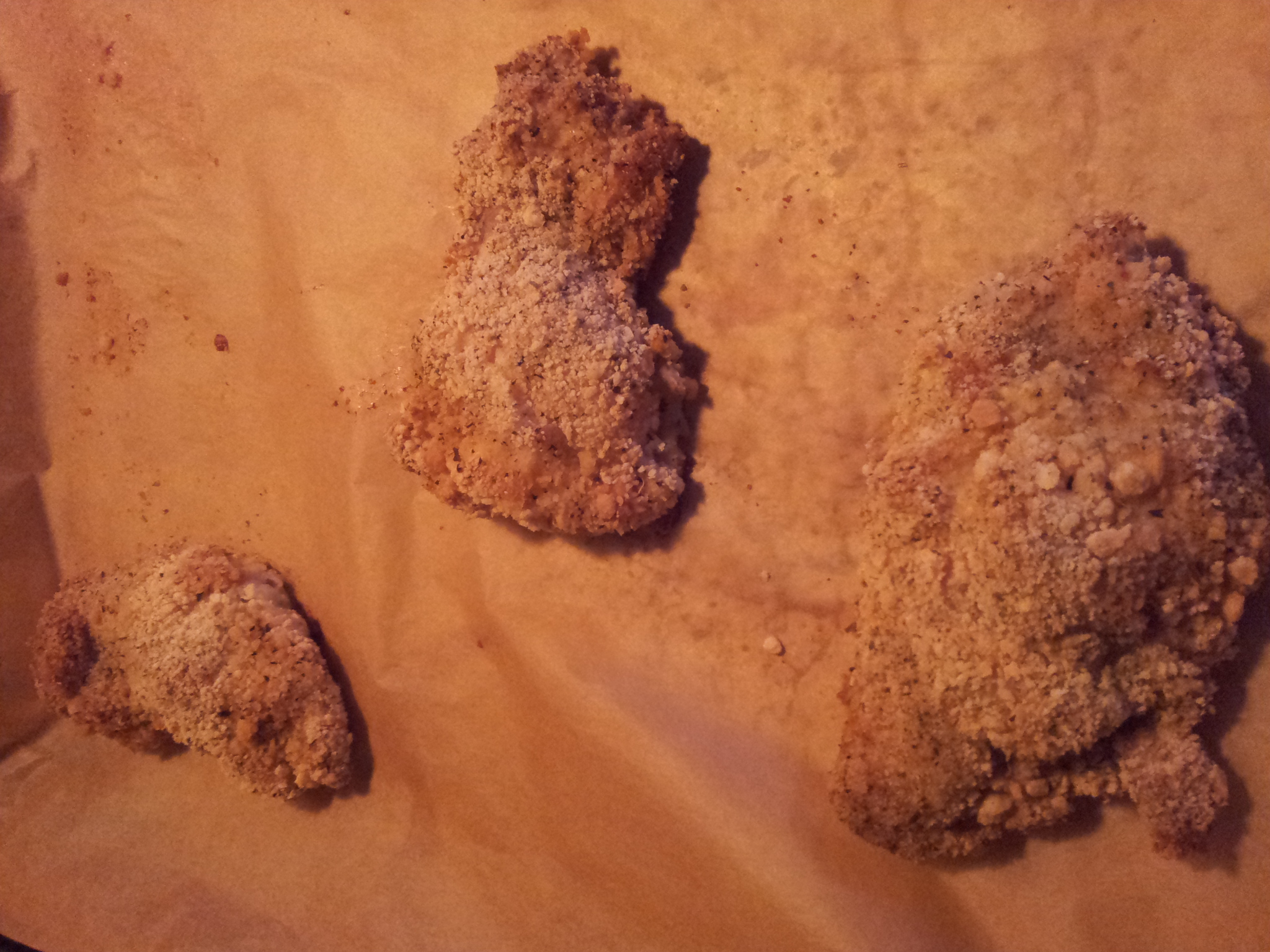 Do you use your oven in the warm weather months?