EWG's 2016 List of Dirty Dozen: Why Buying Organic is Important
A study I recently read concluded that a diet for children consisting of mostly organic foods reduces the amount of pesticide left in the body That's the #1 reason EWG's list of the Dirty Dozen is so important.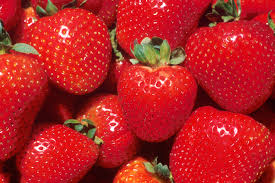 Apples have typically been the #1 fruit on the list of the produce with the most pesticide residue, but this year, it is strawberries. The Environmental Working Group, or EWG ranks the 12 "dirtiest" fruits and veggies each year. The data is culled from the U.S. Department of Agriculture and Food and Drug Administration.
EWG provides this information as many families cannot afford to purchase all organic fruits and veggies. In providing this list, it gives consumers an idea of what should always be purchased organic.
Here is the 2016 list of the Dirty Dozen:
Strawberries
Apples
Nectarines
Peaches
Celery
Grapes
Cherries
Spinach
Tomatoes
Sweet Bell Peppers
Cherry Tomatoes
Cucumbers
The safest include:
Avocadoes
Sweet Corn
Pineapples
(If you want to avoid GMO, however, you should buy organic sweet corn and pineapples, which is sometimes produced from GMO seed).
To see the full list of 48 fruits and veggies, click here.