An Interview with Deek Diedricksen, Author of MicroShelters & Host, Tiny House Builders
Derek "Deek" Diedricksen's tiny house designs have been called innovative, fun, funky, beautiful and unique, but one thing the designs by the host of HGTV's Tiny House Builders hasn't been called is boring.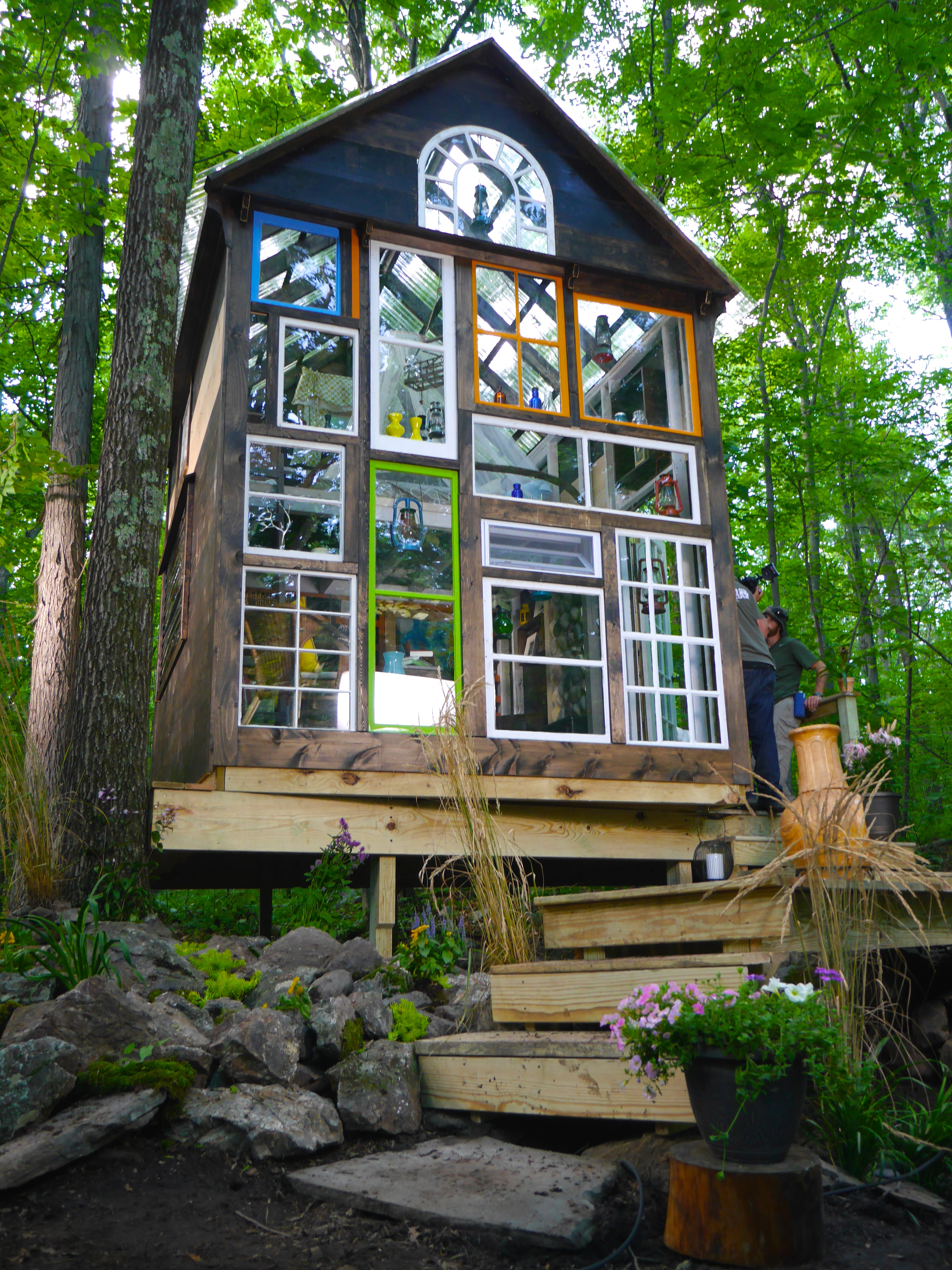 Today, Deek answers some questions surrounding some of his most favorite designs and his latest book, "Micro Shelters."
I loved this book, it took me a week just to absorb all of the really great designs and information Deek provides.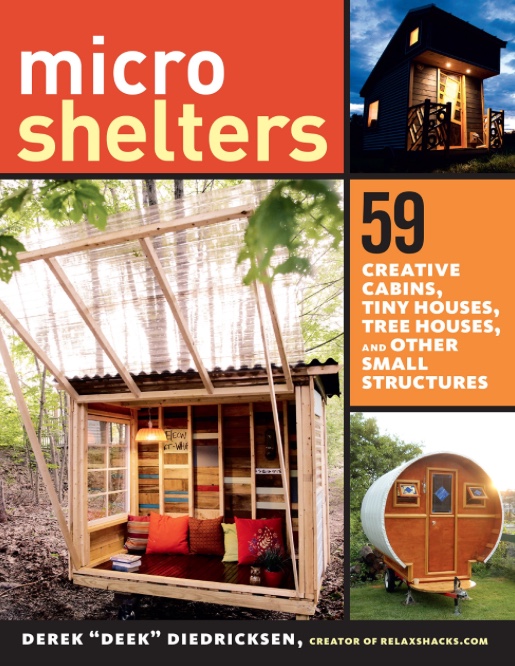 Here's our interview:
1). What got you interested in the Tiny House Movement and how long ago? 
I've been into tiny houses since around 1985 when my father gifted me a book called "Tiny Houses" by Lester Walker- the year it came out. It's still one of my favorite books in the field. I was a fort-addicted kid, building illegally in the woods all around my town with construction-site leftovers since I can remember, but the Walker book made me look at things in a more serious light- it showed me that the passion for small dwellings and shelter wasn't just for kids. 'What if I saved up some money, bought some new materials, and build my own backyard cabin?' I did- at age ten. It had heat, a platform bunk, insulation, and electricity by an external gauge cord from the main house 70 feet away. It wasn't a tiny house, but it was a start. This was my first "non-fort" structure, AND the beginning of a long, long line of self-designed structures to come. I had long been a tiny house nut, but then stumbled across the Tumbleweed Tiny House Company's site in 2002 or so, and that inspired me to think about possible blogging about my designs, ideas, and builds- which I didn't start doing until 2008/2009 through Relax Shacks.
2). What made you want to write the book? 
"Microshelters" is actually my third book on the world of micro architecture and tiny houses, so I've been at it- and addicted if will- for some time professionally too. "Humble Homes, Simple Shacks" (Lyons Press- 2012, and originally 2010), was my first through a real publisher, and being a fan of the whole renegade, DIY, underground approach of things (harkening back to my days in punk rock bands), I also released a very small run of a tiny-tiny self-assembled book called "Quick Camps And Leg Cramps" (2011).
3). You also provide some basic construction tips and talk about tools in the book. Can someone with little to no experience really build their own tiny house? 
Oh heck yeah. We host hands-on workshops around the US (and beyond- Australia last year) and a good majority of the people who sign up have never nailed two boards together. Some of these people have gone on to later build magnificent tiny houses- some of which have been showcased in magazines, on TV shows, and in the news. Its so rewarding to see those people's dreams eventually come to fruition. We actually have our biggest, yearly, workshop coming up too, and with so many hosts, carpenters and designers on hire, and teachers, we get a wide mix of skill levels attending. September 16-17-18th at my ten-acre compound in Orleans, VT. We have shelters, a tiny house, tree houses, and more- we just added longtime HGTV host Matt Fox (of Room by Room) to the roster too. More info can be found here. We limit these to about 40, as the "cattle-drive", max-it-out, workshop isn't what we're going for. We want to be able to give people lots of individual attention- and again hands-on tool use and techniques.
4). Which house is your favorite in the book? 
Oh man, that's tough. I get tired of things quickly- I'm a total A.D.D. case. I'll build something, love it, and then hate it a month later. A year later I don't even want to say its something I designed. The stuff we did for our HGTV show Tiny House Builders missed the submission dateline, so the funky tree house-over-a-stream would have been one, but its not in there. I don't know- I think the "Tiny House Giant Journey" house is a great one, "The Cub"- a tiny-tiny bunk house on wheels that I built, or maybe Jay Austin's tiny house in D.C.
5). Finally, what is the best part of hosting Tiny House Builders? 
I'd have to say it was seeing something in my mind, go to paper, and then to real life in only five or so days. The shoot schedules and work are grueling, but when you put that last nail in and give the house away, it made it all worth it.
Editor's Note: New episodes of Tiny House Builders aren't being made, although the ratings met expectations, Deek said it just didn't work out.  "I've since passed on working with other networks and production companies after this experience, and we're now looking for a few more sponsors to fund our own indie/DIY show- small builds, budget shoots, but fun, informative, candid, and comical. We will call all the shots this time. It'll be a jazzed up version of some of my older Youtube videos, or my work for Make Magazine going 4-5 years back."