Living Large Reveals: A Tiny House in London
There most likely aren't many people who can give advice on how to downsize than people who have lived in multiple locations across the globe.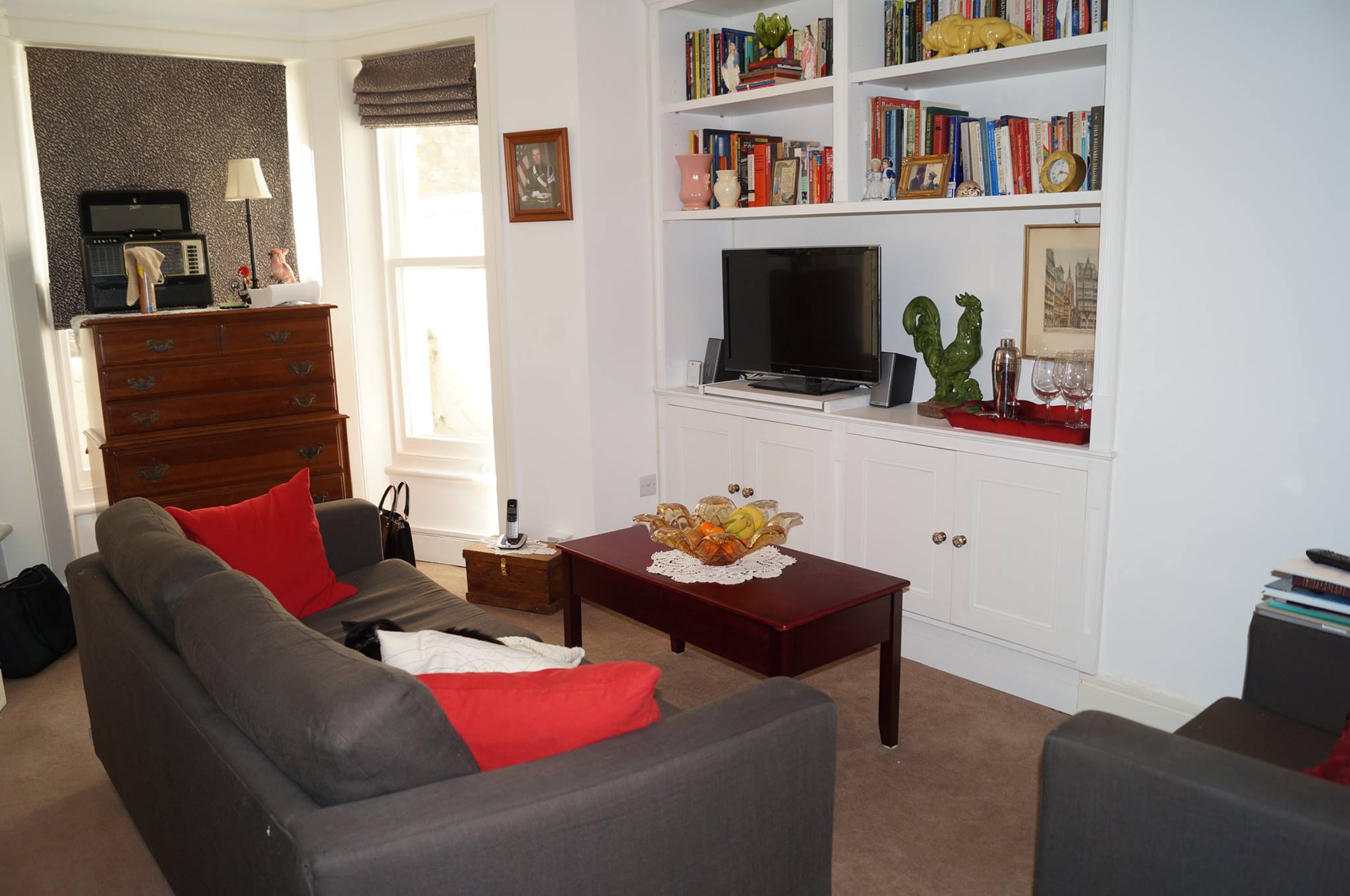 Laura Marshallsay is an American expat living in London with her British husband, Tim. "Being American, I'm used to things being big," says Laura. We've lived in very small flats before in Europe, but our smallest flat in the states was probably around 900 square feet."
Their first home in the U.S. was 1,200 square feet and they eventually moved because it was too small. "When we moved we found boxes in the basement and under the stairs with stuff we even forgot we had," says Laura. "When we moved from our second home in Baltimore to Ohio, we found that stuff again, and once again forgot we even had it. We got rid of half of our belongings from that move, much of it ending up in the dumpster."
When Laura and Tim moved to England from a 2,500 square foot home in the States, they once again got rid of a lot, but Laura says they still filled the better part of a 40-foot shipping container with their stuff. They first rented a house on the coast, but the location was too remote and Laura was having problems finding a job.
Tim transferred to London and the move took them to their current 300 square foot tiny flat. Laura said they sold almost everything they owned except for a cedar chest, a chest of drawers, two mini end tables and a few nick knacks. "We reckon we have less than one percent of what we started with prior to the first move from Baltimore," Laura says. "We still have to be careful about what we buy, simply because we have so little space. If we have something, we can't buy others just because they are on sale. Living an edited life is much different from living in a larger American house."
Laura says that although they have little space and watch what they buy, she can still go to the closet every so often and find things to get rid of. In the kitchen, she says they have a fondue set they've held onto for years because they used to celebrate New Year's Eve with fondue (a common celebration in Europe). "We haven't had New Year's Eve fondue since 2009. Seriously, time to go!" Laura says.
The photo at the top of the page shows Laura and Tim's living room. "The built in book case makes such a difference because it is deep," says Laura. They keep photo albums, Wi-Fi router, the printer and other things for the home office in the cabinet below the television. The chest of drawers near the window is storage for extra blankets, phones, camera gear and some items that don't fit in the kitchen.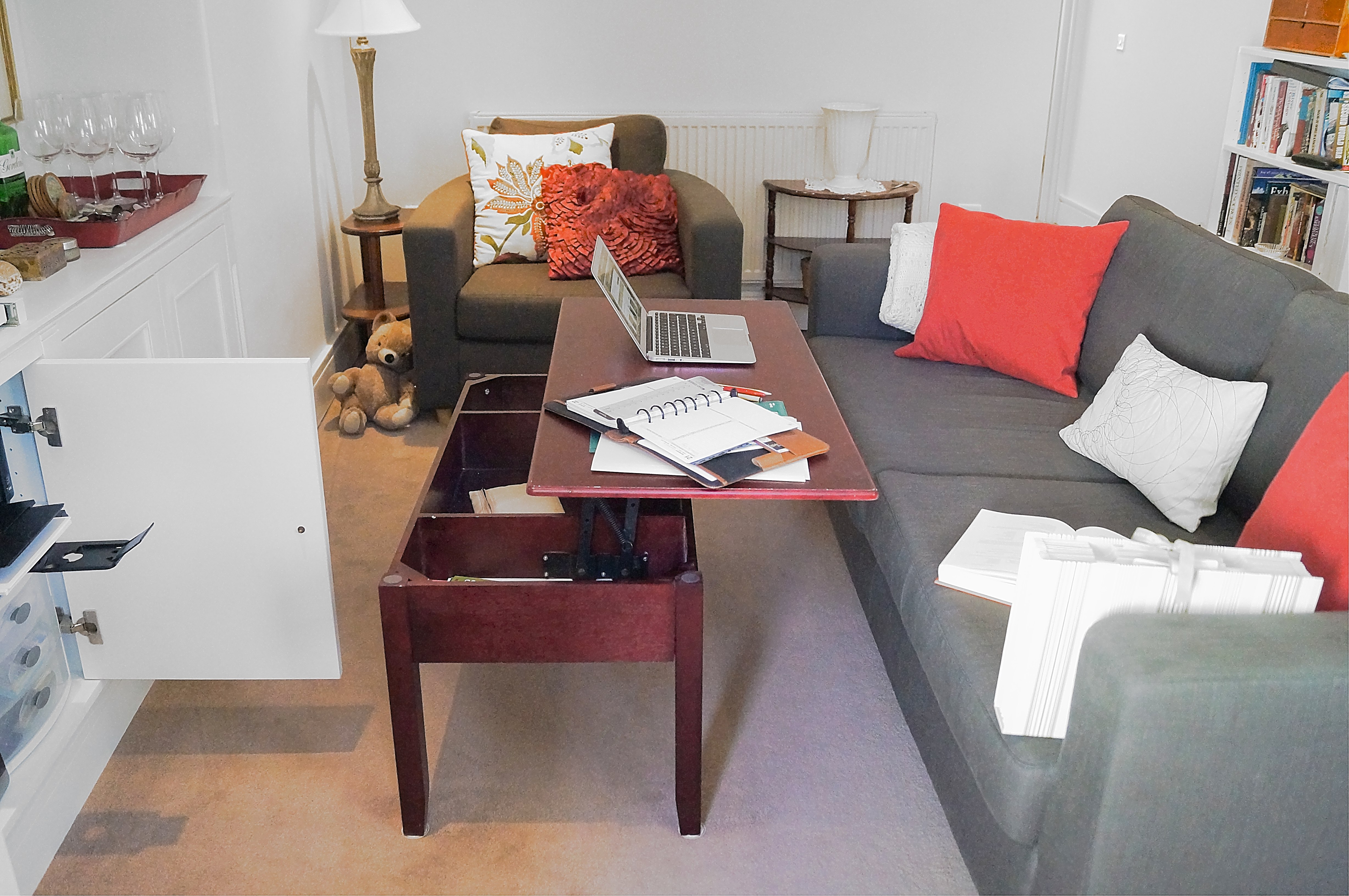 The coffee table is really great, as it simply lifts up and can serve either as a place to eat or a work space when Laura is doing some of her volunteer work.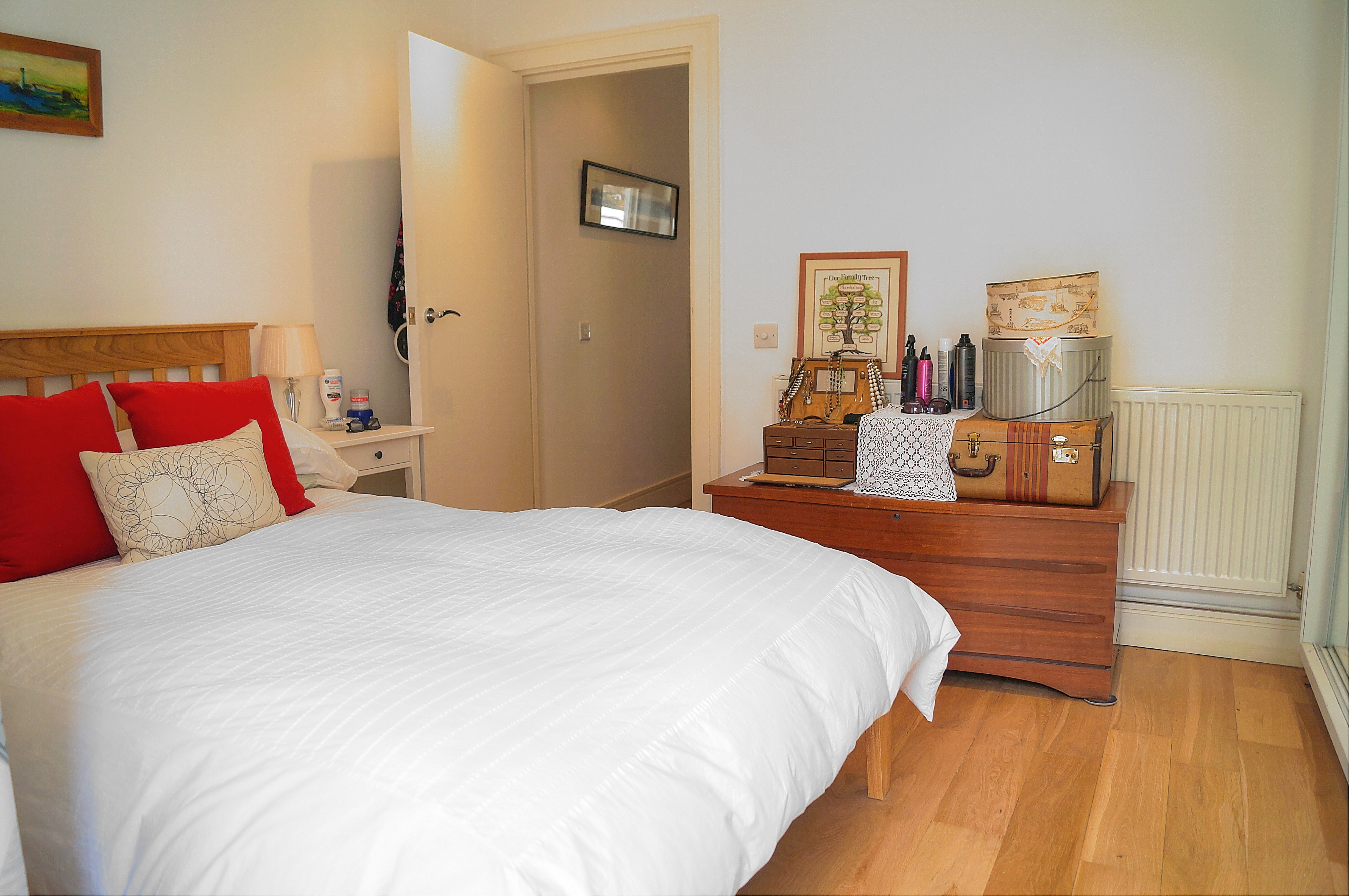 In the bedroom, Laura has her grandmother's cedar chest, which is one of the only sentimental pieces of furniture she has. It also functions as storage space for a lot of stuff. "I use it mainly for out of season clothes," Laura says. Laura has a collection of hats, which she stores in the antique suitcase.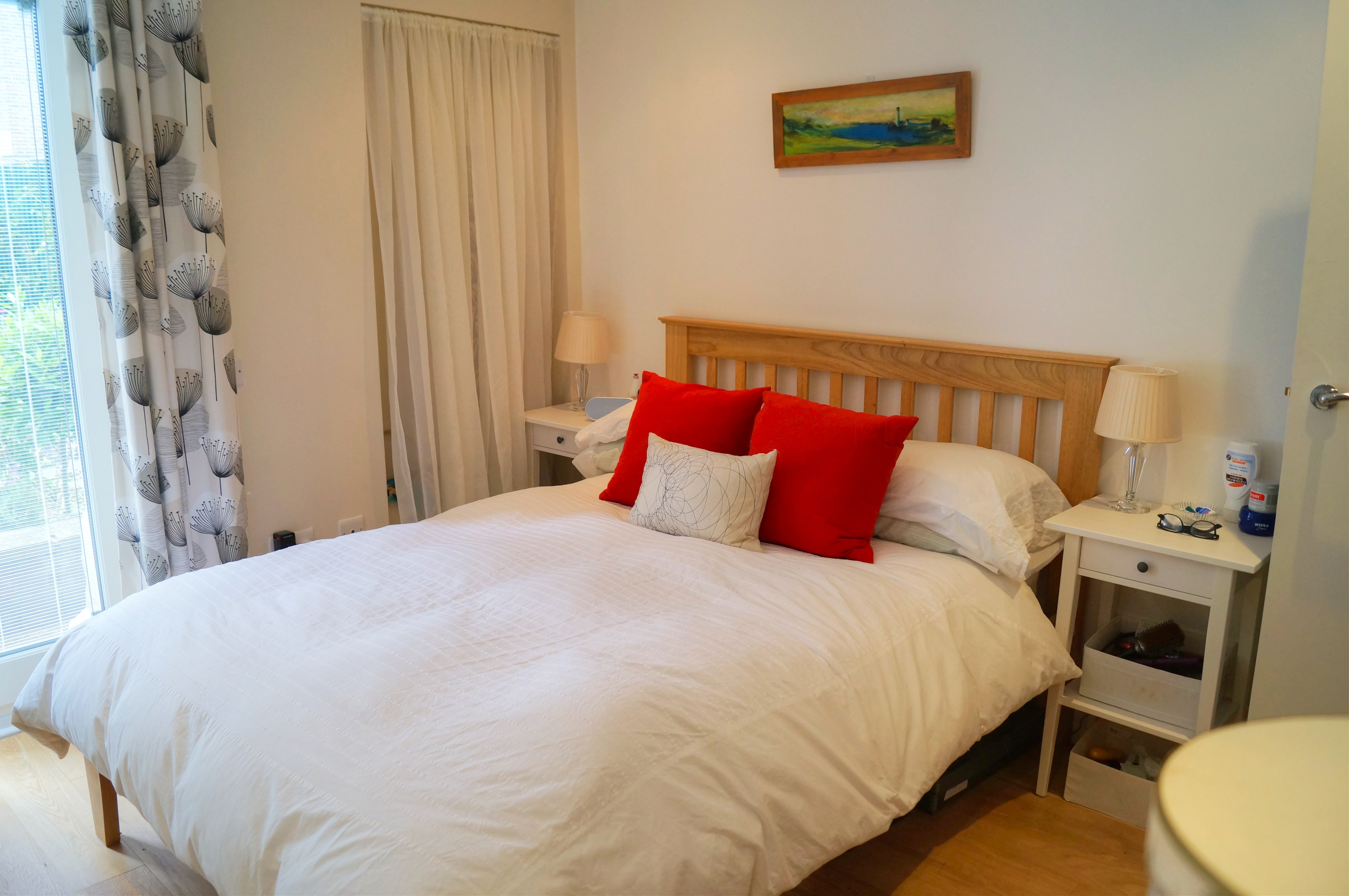 The flat is a rental, so the couple cannot make any changes to it, but they make use of every bit of space they have. On the other side of the bedroom, there is a 30" wide alcove, which is 10" deep. "There's not much you can do with this sized space," Laura says. "I hung a tension rod and a couple of sheer curtains. Now I have storage space for my ironing board, clothes drying rack and a few other things." Laura is her family's historian, so she does have a lot of photos, which she stores, with other things, under the bed.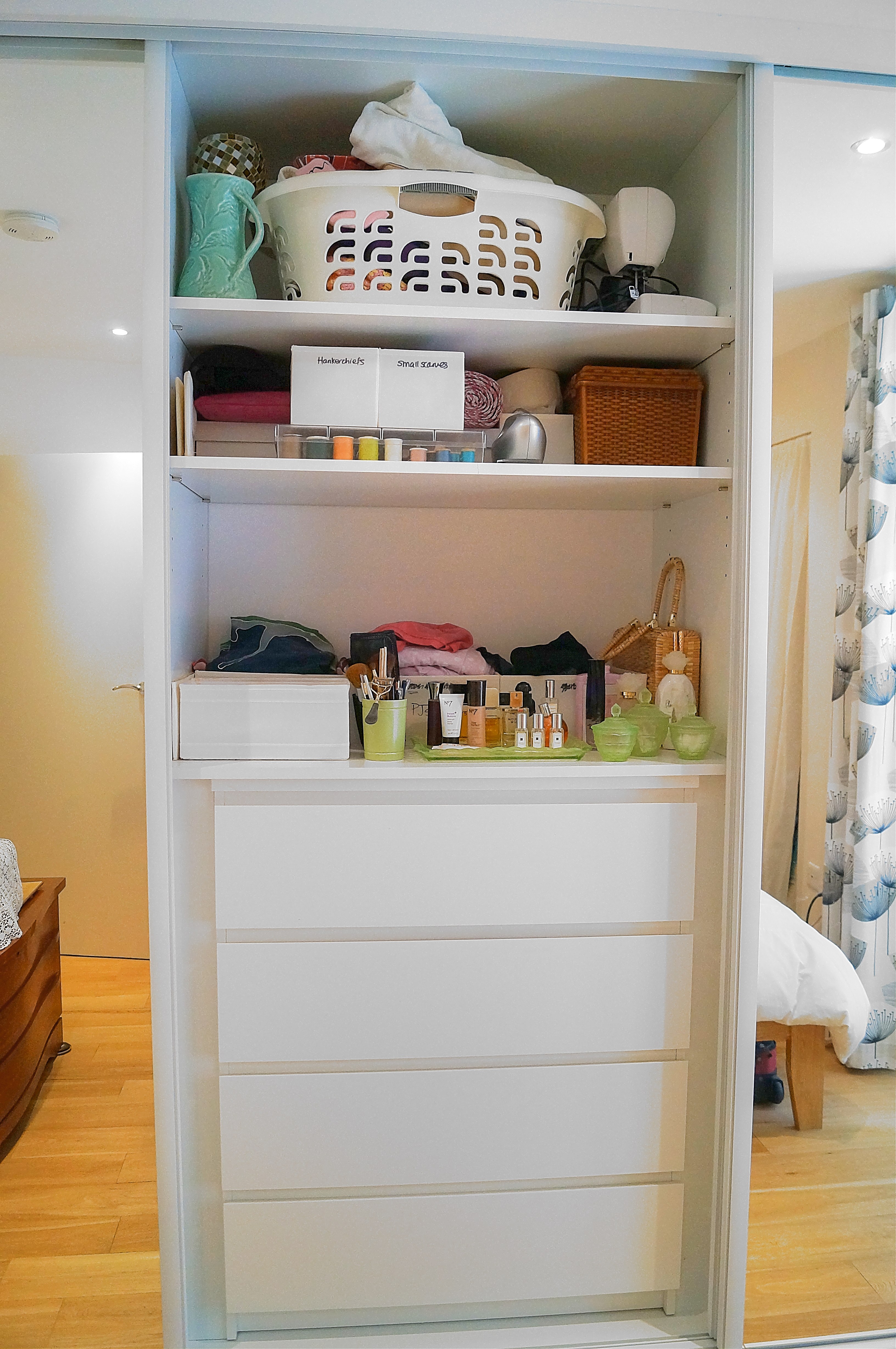 The closet has a built in chest of drawers, which Laura and Tim share. Laura keeps scarves, pajamas, handkerchiefs and other small items in the folding fabric boxes from Ikea.
What do you think of this nifty tiny space in London?