There is Reason to Report on the Small House Movement, or My Math is Better Than Your Math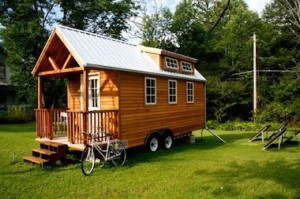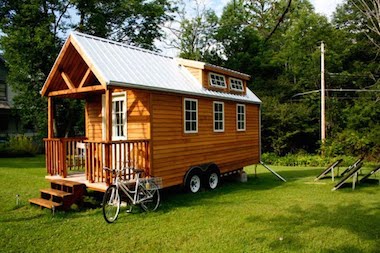 Ah, here I am again, blogging about the tiny/small house movement in an effort to try to explain it to someone who obviously will never get it.
I ran across an article yesterday on Housing Wire, intelligently entitled, "Nope, Tiny Houses are not the Next Big Thing: Sorry man – size matters."
In the article, author Trey Garrison lambasts journalists for not being good with numbers. He goes on with his argument that the media coverage on the tiny/small house movement is unwarranted because the statistics show that homes are, in fact, getting bigger.
He then goes on by taking barbs at tiny house dwellers as "a few hipsters and other assorted folks who make bad decisions."
On that point about square footage, he is correct. New home construction is increasing in size and in fact, has hit a record at an average of 2,607 square feet, and yes, with the exception of a couple of years during the recession, has grown from 1,500 square feet since 1970.
What Garrison fails to also cover in his in-depth analysis of tiny house dwellers is that while new home square footage is growing, home ownership in the U.S. is on the decline.
According to an article in Bloomberg earlier this year, home ownership in the U.S. is at its lowest in 19 years at 64.8 percent. This is down from a high in 2004 of 69.2 percent. "Recovering home prices and mortgage rates that have climbed from near-record lows last May have put real estate out of reach for some would-be buyers," the article explains.
So, who is buying all of these brand new McMansions?  Not the shrinking middle class in America and it certainly isn't the poor, which, as a group, is growing larger. "The idea that the median American has so much more income than the middle class in all other parts of the world is not true these days," Lawrence Katz, a Harvard economist told the New York Times. "In 1960, we were massively richer than anyone else. In 1980, we were richer. In the 1990s, we were still richer." That is no longer the case, Professor Katz added.
One of the biggest benefits of the tiny/small house movement is that of lower construction costs and for many, debt free living. Of course, there are other reasons aside from economic ones that Americans and people all over the world are looking toward tiny/small house living. Those reasons include concerns for sustainability/the environmental footprint, mobility for homes that are on trailers and freedom to actually live our passions free of the high maintenance of a large home.
Garrison also fails to acknowledge that most tiny/small homes are DIY builds. Therefore, they do not show up on Home Builder Association surveys, and will never be included in average square footage tallies. And because many are built debt free, they also don't show up on mortgage lenders radars.
But maybe that is exactly what Garrison and his publication has against the tiny/small house movement. The publication is described on its' website as "by far the nation's most influential source of news and information for U.S. mortgage markets." As with cities that aren't collecting taxes and utility companies that aren't able to charge many tiny/small homeowners huge fees, this publication might actually be afraid that the tiny/small house movement is more than the "flash-in-the-pan fad of glorified trailers with fancy trim," it describes.
Homeowners who don't need mortgages means less advertising revenue for publications that depend on the mortgage industry.
Yes, the tiny/small house movement is little right now, but there is no denying its growing. Will it ever dominate the housing market? I doubt it. It's not for everyone, but for people who have found happiness and freedom in it, they don't deserve to be called "hipsters and assorted folks who make bad decisions."
For the record, I know we do not fall into Garrison's definition of a tiny house (according to him, under 400 square feet and on wheels). I'm a journalist, but I can count, I even have a degree in business. We are at 480-square feet and on a permanent foundation. Still, I take offense to his characterization that people like us are "making bad decisions" (for who? Your beloved mortgage industry?).
Here's how I see our future in our small home once all of our goals are realized:
-0- Debt
+
-0- Days worrying about high maintenance, utility bills, high tax bills and our footprint on the environment
+ -0- Days being a slave to corporate employers who only see employees as a line item on a balance sheet
=365 days of happily living our passions and truly Living Large
How's that math for ya?