Our Little House Peach Dump Cake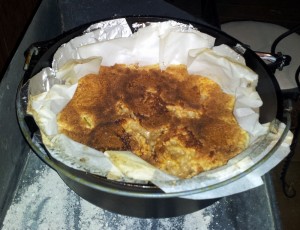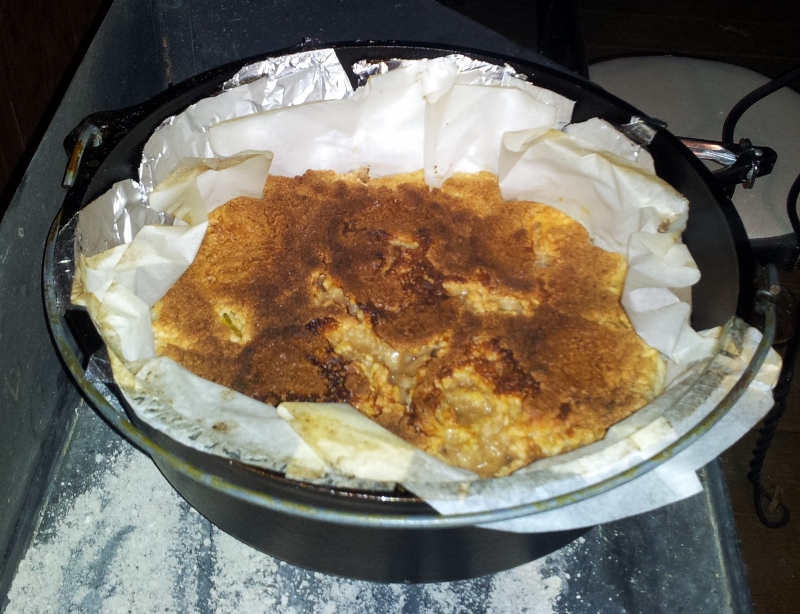 As we've gotten older, desserts are something I don't make a lot of anymore.
This past weekend, we had planned one of our best Sunday dinners, beer butt chicken with potato salad and my mom's baked bean recipe.
I recently consulted with my doctor, who follows a 90% vegan diet as I do, and he advised me that I need a little more protein and B12 in my diet other than the once a week fish I've been eating.
This made Dale, who left vegetarianism behind after a few months, extremely happy. I bought a free-range, organic bird from a local farmer at our town's natural food store. Next week, the leftovers will make some delicious chicken enchiladas.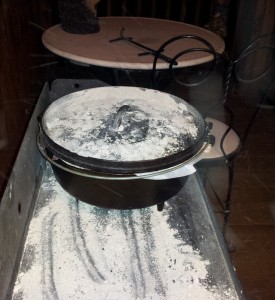 Dale loves to Dutch oven cook and decided to make a recipe he recently saw on a show called, "Campfire Café."
It is a peach dump cake recipe, so easy and oh, so delicious. This is one we'll be filing away for when we have guests at Out Little House.
Our Little House Peach Dump Cake in a Dutch Oven
2 cans of peaches (we used the no sugar added variety, the cake mix makes this sweet enough. Don't use pie filling as this will not provide enough liquid).
1 tbsp. of cinnamon (and more to sprinkle on top)
1 boxed white cake mix
4 thin pats of butter
Pour the 2 cans of peaches into a 12 inch Dutch oven that has been placed on a cooking table or safe surface over 10-12 hot charcoal briquettes. The oven should already have a liner or parchment paper in it so you don't have to spend time scrubbing a sticky mess. Mix in 1 tbsp. of cinnamon. Pour the white cake mix over the peaches and spread evenly. Place the pats of butter away from each other on top of cake mix. Sprinkle a little more cinnamon on top. Put on lid and place 10-12 more hot coals on lid and allow to cook for about 45 minutes or until brown.
You can also do this inside your oven, using a 12 inch baking pan at about 350 degrees.
Do you have a special dessert recipe?