Signs, Everywhere a Sign, Even in a Tiny House
On a recent episode of the show, Tiny House Nation, the designers had a sign inscribed with the owner's life motto. When I saw the episode, I realized just how many signs we have in Our Little House and in The Belle Writer's Studio.
Signs in the studio such as, "What happens in the cabin, stays in the cabin," "Welcome to the woods" (with a picture of an outhouse hung in the bathroom) and a sign that points in the direction of the lake.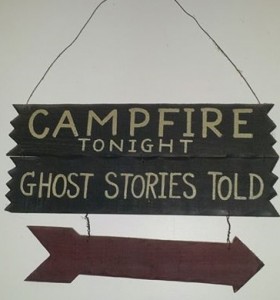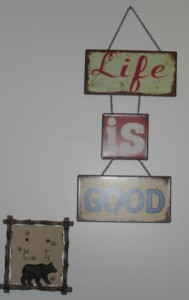 In the house, I have one with bears that says, "Bare feet welcome here." My three favorites I feel really conveys the spirit of our house and what we enjoy. "Campfire tonight: Ghost stories told," one says by the back door.
The one most everyone comments on is "Happy Everything," a sign my mom created and designed when we owned a craft business together.
Of course, our personal motto that I found hanging in a store in Branson, "Life is good."
I read online that signs representing a homeowner's personal philosophy are BIG in decorating right now.
Once again, we never thought of ourselves as trendsetters, but we were decorating signs before anyone thought it was cool. It's a great way to add personal philosophy to a small space that typically has limited space for much décor.
And it helps to remind us why we're here. After all, Living Large is a state of mind.
Do you have signs as wall are that represent your personal philosophy or things you love?