Mugged at Our Little House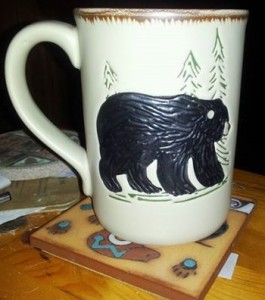 We get up before the sun at Our Little House. During the week, we get up at 4:30 and I help get Dale out the door. Then I sit down with my hot cup of coffee – on the covered front porch if it's nice, on the sofa if it's not – and read the latest news.
It's my favorite time of day. There isn't a sound in our world except for the early rising birds and sometimes Sade's snoring.
But it's the coffee I love most. That first sip is like nirvana.
Almost as much as the coffee itself, I enjoy my collection of coffee mugs. I have bears to go with my cabin décor, pit bulls and dachshunds, a mug with one of my favorite mantras, "My journey begins today," mugs from concerts and a mug that was a special gift from my mom. The mug I choose for my morning coffee ritual depends on my mood.
About a year ago, I had to clean the cabinets out to make two more shelves for the mugs.
On a recent trip to Bass Pro and a cabin store called Rusty Moose in Springfield, Missouri, I spotted the mug in the photo.
Dale looked at me and gave me one of those looks. "You don't need any more mugs."
I smiled, waited for him to tire of the store and tell me he would be in the truck. I then snatched up my new bear mug.
My head knows living in a small house, we don't have the big country kitchen with seemingly unlimited deep cabinet space that I had in our home in the city.
My head knows the one in, one out rule.
Still, I sometimes cannot help myself with a new coffee mug. We've lived here seven years and it's hard to make the need to buy stuff we don't need go away. It's something I think most small house dwellers continually struggle with.
I guess my obsession could be worse, it could be something really big. But I know this will have to end, or I will have to start getting rid of some of the mugs. In a home where even junk mail can become a problem, there is no room to be mugged.
Is there one thing that you sometimes can't keep yourself from buying?