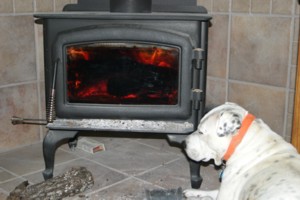 We're hav­ing our hottest weather of the sum­mer right now, so it is very coun­ter­in­tu­itive of me to write about wood stoves.
But the real­ity is that it will not stay hot or even warm for very much longer and we're start­ing to think about where we will source our wood and also get­ting the stove pipe cleaned out for the upcom­ing season.
Heating with a wood stove is a lot more work than turn­ing on the ther­mo­stat, but it pro­vides that deep warmth only a fire can pro­vide and also saves us money on our elec­tric bill dur­ing the win­ter months.
I was read­ing the Little Yellow Door blog and Ella's post about her tiny wood stove. Her Kimberly wood stove is beau­ti­ful and quite per­fect for a tiny house, but as she points out, it is quite expensive.
I have to put a word in for Regency. We pur­chased ours F1100 in 2003 and it is very small.
This stove is per­fect for larger small homes and will heat up to 1,200 square feet, accord­ing to the website.
It was per­fect last win­ter when we had such bru­tal cold, but can make the house a lit­tle too warm if we aren't care­ful how we run it.
We went with the Regency when we built Our Little House because my aunt has the big­ger model and loves it.
It not only works very well, the aver­age cost of this model is around $1,500 (not includ­ing deliv­ery and installation).
As you can see from the photo, Sade really loves it!
Here are some tips from the EPA on choos­ing the right wood stove for your home.
Do you have a wood stove? If so, what kind?