Universal Design Could Help you Later in Your Small Home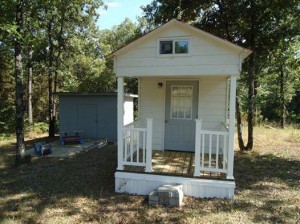 When I posted this photo of a cute tiny house on the Living Large Facebook page the other day, one of our Living Largers wrote, "Unfortunately, you couldn't get a walker through that door."
That's very true of many of the tiny houses I've seen.
Having written stories on retirement, I knew about Universal Design construction and when we moved to Our Little House in 2007 and initially planned on building a 1,000 square foot home, I was going to ask our builder to use Universal Design.
Since it was going to be our home through retirement – and hopefully the end of our lives – I wanted to do everything I could to ensure we could stay in our home even if we became disabled.
That was the plan anyway. As a John Lennon once said, "Life is something that happens to you when you're busy making other plans."
Part of the "sustainable" aspect of Living Large in Your Little House is to be able to stay there for as long as you need a home.
Many Living Largers are midlife or older and if you're planning on building your own little home and you want to stay there throughout the rest of your life, I would suggest that you take a look at Universal Design.
According to the National Home Builder's Association, aging-in-place homes have some of these features:
No-step entry. No one needs to use stairs to get into a universal home or into the home's main rooms.
One-story living. Places to eat, use the bathroom and sleep are all located on one level, which is barrier-free.
Wide doorways. Doorways that are 32-36 inches wide let wheelchairs pass through. They also make it easy to move big things in and out of the house.
Wide hallways. Hallways should be 36-42 inches wide. That way, everyone and everything moves more easily from room to room.
Extra floor space. Everyone feel less cramped. And people in wheelchairs have more space to turn.
Floors and bathtubs with non-slip surfaces help everyone stay on their feet. They're not just for people who are frail. The same goes for handrails on steps and grab bars in bathrooms.
Thresholds that are flush with the floor make it easy for a wheelchair to get through a doorway. They also keep others from tripping.
Good lighting helps people with poor vision. And it helps everyone else see better, too.
Lever door handles and rocker light switches are great for people with poor hand strength. But others like them too. Try using these devices when your arms are full of packages. You'll never go back to knobs or standard switches.
Yes, you might have to add a few square feet to your plans and if your tiny home has plans for a loft, you might have to have extra space so that your sleeping space can be moved downstairs (if necessary) later.
It's estimated that Universal Design will add about 5 percent to the total cost of construction (for wider doorways, grab bars in the tub/shower etc.)
Yes, if you have the additional square footage and initially add wider doorways, you can always retrofit the house only if you need it later.
However, debilitating illness sometimes does not give a warning. If it were me, I would want to be able to come home as soon as possible, rather than have to stay in a rehab facility or a nursing home because my house cannot accommodate my new needs.
Have you considered Universal Design in construction of your new small home?