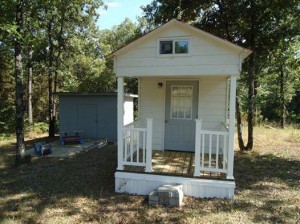 When I posted this photo of a cute tiny house on the Living Large Facebook page the other day, one of our Living Largers wrote, "Unfortunately, you couldn't get a walker through that door."
That's very true of many of the tiny houses I've seen.
Having writ­ten sto­ries on retire­ment, I knew about Universal Design con­struc­tion and when we moved to Our Little House in 2007 and ini­tially planned on build­ing a 1,000 square foot home, I was going to ask our builder to use Universal Design.
Since it was going to be our home through retire­ment – and hope­fully the end of our lives – I wanted to do every­thing I could to ensure we could stay in our home even if we became disabled.
That was the plan any­way. As a John Lennon once said, "Life is some­thing that hap­pens to you when you're busy mak­ing other plans."
Part of the "sus­tain­able" aspect of Living Large in Your Little House is to be able to stay there for as long as you need a home.
Many Living Largers are midlife or older and if you're plan­ning on build­ing your own lit­tle home and you want to stay there through­out the rest of your life, I would sug­gest that you take a look at Universal Design.
According to the National Home Builder's Association, aging-in-place homes have some of these features:
No-step entry. No one needs to use stairs to get into a uni­ver­sal home or into the home's main rooms.
One-story liv­ing. Places to eat, use the bath­room and sleep are all located on one level, which is barrier-free.
Wide door­ways. Doorways that are

32

–

36

 inches wide let wheel­chairs pass through. They also make it easy to move big things in and out of the house.
Wide hall­ways. Hallways should be

36

–

42

 inches wide. That way, every­one and every­thing moves more eas­ily from room to room.
Extra floor space. Everyone feel less cramped. And peo­ple in wheel­chairs have more space to turn.
Floors and bath­tubs with non-slip sur­faces help every­one stay on their feet. They're not just for peo­ple who are frail. The same goes for handrails on steps and grab bars in bathrooms.
Thresholds that are flush with the floor make it easy for a wheel­chair to get through a door­way. They also keep oth­ers from tripping.
Good light­ing helps peo­ple with poor vision. And it helps every­one else see bet­ter, too.
Lever door han­dles and rocker light switches are great for peo­ple with poor hand strength. But oth­ers like them too. Try using these devices when your arms are full of pack­ages. You'll never go back to knobs or stan­dard switches.
Yes, you might have to add a few square feet to your plans and if your tiny home has plans for a loft, you might have to have extra space so that your sleep­ing space can be moved down­stairs (if nec­es­sary) later.
It's esti­mated that Universal Design will add about 5 per­cent to the total cost of con­struc­tion (for wider door­ways, grab bars in the tub/shower etc.)
Yes, if you have the addi­tional square footage and ini­tially add wider door­ways, you can always retro­fit the house only if you need it later.
However, debil­i­tat­ing ill­ness some­times does not give a warn­ing. If it were me, I would want to be able to come home as soon as pos­si­ble, rather than have to stay in a rehab facil­ity or a nurs­ing home because my house can­not accom­mo­date my new needs.
Have you con­sid­ered Universal Design in con­struc­tion of your new small home?