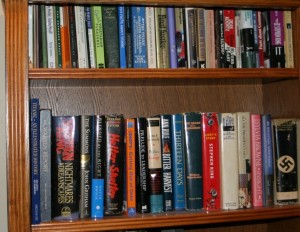 I'm cel­e­brat­ing the 5 year anniver­sary of the Living Large blog with an announcement!
The book based on our expe­ri­ences down­siz­ing to a small house, along with tips from me and other Living Largers is one step closer to reality.
My agent and I have agreed on a work­ing title, Living Large in our Little House: Thriving in 480-Square Feet with Six Dogs, a Husband and One Remote and How you Can, too.
The book will tell the story of how we came to live in Our Little House, but will also have never-before pub­lished sto­ries about our down­siz­ing, as well as sto­ries of oth­ers who have done the same.
It will be about Living Large by actual Living Largers!
The book will also give tips on how to com­plete your own Living Large dream!
How many of you would like to read this book and what tips would you like to see in it?