Mom's Bean Pot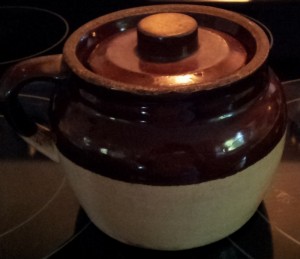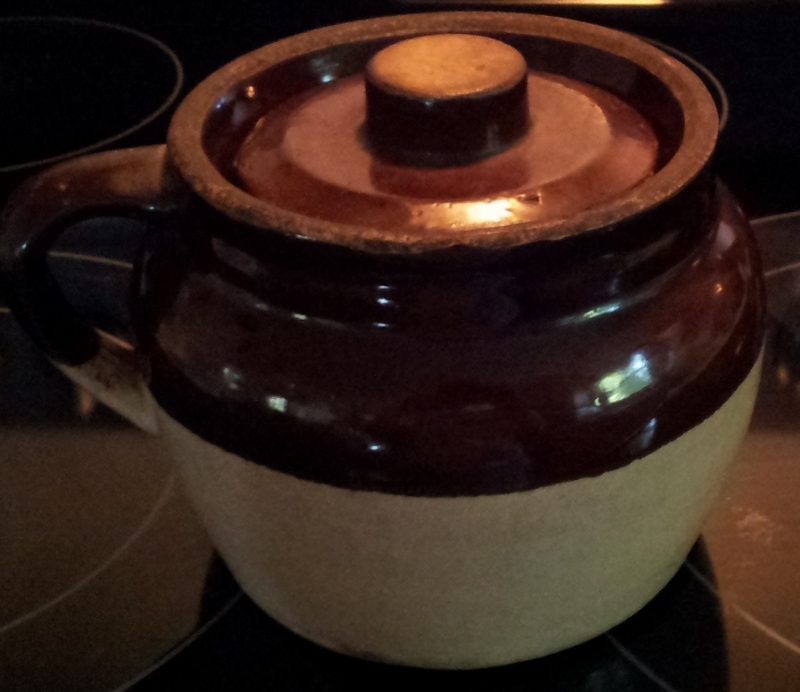 We have been enjoying the bounty of summer with cucumbers, organic sweet corn, tomatoes, green beans and new potatoes coming on almost faster than we can eat them.
One summer treat my husband loves is baked beans.
When we moved to Our Little House, I knew we would be grilling and doing some entertaining in the summer months and our summer dinners on The Party Deck aren't complete without baked beans.
To me, baked beans would not be the same if they weren't cooked in my mom's bean pot.
When downsizing to a small space, if you have things that are sentimental, they must also be functional as well (like my antique bedside lamp).
My mom always made her beans in her bean pot. I have no idea how old it is, but it is marked "USA" on the bottom and I do not remember the bean pot never being in our home. That fact makes it almost an antique in itself!
Last week, I roasted some broccoli and lemon pepper in parchment paper (I love parchment paper cooking, thanks Brette Sember for that book) and put some corn on the cob and baked beans in the oven.
The dinner was a "keeper," as my husband likes to call good, filling fare.
I've had people tell me her recipe is some of the best baked beans they've ever experienced.
I wish I could say that there is some "secret family recipe" to my mom's baked beans, but they are really quite simple.
But Living Largers know that the best things in life aren't complicated.
Living Large Baked Beans
1 large or 2 small cans of baked beans (or pork and beans if you like. I use the vegetarian Grillin Beans in a large can).
½ medium onion
2 tbsp. ketchup
1 tbsp. brown sugar
1 tsp. fresh ground black pepper
(My mom always cut up and put a slice of bacon in them as well)
Preheat oven to 400 degrees. Mix all of your ingredients in a baking dish or bean pot. You can add ketchup and sugar to your liking. Cover and bake for approximately 1 hour or until onions (and bacon if you used it) are cooked.
Serve hot or my mom always made cold baked bean sandwiches the next day. On white bread, that's heaven!
Do you have a bean pot? Where did it come from?