Living Large Veggie Enchiladas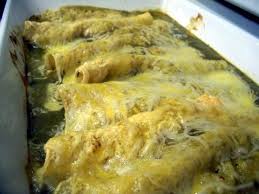 I typically don't cook a lot of heavy foods in the summer, but my sister in law brought us some of our favorite corn tortillas made locally in Kansas City when she visited last weekend and Dale is getting tired of variations on salads, so I decided to try some vegetable enchiladas.
When we were in Kansas City for our last visit, we made a couple of stops at one of our favorite Mexican restaurants, Panzones, and I was delighted they had added a whole section on their menu for vegetarians.
I had the vegetable flautas, which were yummy. I yearned for that same taste and it got close when a new Mexican restaurant opened here. They didn't have vegetable flautas, but their veggie enchiladas are almost the same (and maybe even healthier since they are not fried).
Mexican food is an area where I say I'm 90% vegan. It's of course, all about the cheese. When I eat out, I cannot control what they put on it, which is a great thing about eating at home. I do eat dairy cheese on the Mexican food I cook (the "fake" stuff is really bad), but not nearly as much as I used to.
I developed my own recipe using our yummy corn tortillas, but you can use any you like. Of course, everything included in our recipe was organic (with the exception of the tortillas), including the cheese.
If you don't like any of these veggies, you can substitute or add carrots and even add small precooked diced potatoes in place of the black beans.
If you're tiring of summer salads, throw this vegetarian dish in for Meatless Monday at your house.
Living Large Veggie Enchiladas
12 corn tortillas
15 crimini mushrooms
1 medium sweet onion
1 medium zucchini
1 medium red pepper
1 jalapeno pepper
1 can whole black beans, drained and washed
3 tbsp. McCormick's Mexican spice
3 tbsp.  Fresh cilantro, chopped
2 cups (or less) grated cheese
1 ½ cup of Mexican green sauce
Preheat oven to 350 degrees. Clean all of the vegetables and seed the peppers. Dice all of the vegetables into small cubes. Sautee vegetables in 2 tbsp. of water (or olive oil if you prefer). Season with McCormick's Mexican spice and add the black beans to the mixture. Set aside. Add the green sauce to a bowl suitable to dip the tortillas. Spray a large baking pan with olive oil cooking spray. Dunk each side of the tortillas into the green sauce and lay in the baking pan. Fill tortilla with vegetable and bean mixture, add a sprinkle of cheese, close and lay the enchilada on baking pan face down so they do not open. Repeat with each one laying them side by side. Pour any remaining green sauce over the enchiladas and sprinkle remaining cheese evenly. Sprinkle evenly with cilantro. Bake at 350 degrees for 20 minutes or until golden brown. Remove from oven. When plating, add a dollop of taco sauce, guacamole, diced green onion and/or sour cream to the top.
Note: The photo on this page is not my enchiladas, but look about the same. I lost my mind when they were cooking and forgot to take a photo before we chowed. Thanks to "8 Weeks to Better Your Recipes" whose recipe for these enchiladas also sounds good for carnivores.