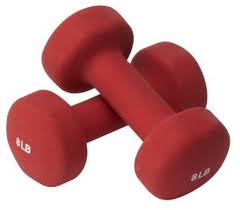 If you're over 40 and intend­ing on down­siz­ing to a lit­tle house, there is an often over­looked down­side to small space liv­ing: Getting plenty of exer­cise to keep your bones and mus­cles strong.
When we lived in our split level 1,100 square foot home in the city, I had no prob­lem get­ting exer­cise. I'd climb the stairs it seemed a mil­lions times a day. If I wanted some­thing when I was down­stairs, it was usu­ally upstairs and visa versa.
Getting into our house required climb­ing stairs, which gave us plenty of "Stair Master" type exer­cise, espe­cially when lug­ging heavy gro­ceries. Of course, clean­ing gave me lots of exer­cise, as did run­ning up and down the stairs of our tall deck.
I was also more con­scious of tak­ing the dogs for daily walks in the city as our large dog, Emma, needed lots of exer­cise and we had a pretty small backyard.
When we moved to Our Little House in 2007, I was in pretty good shape. I got myself up to walk­ing 4 miles per day, even in the heat of sum­mer. After los­ing my mother that year, I felt as if I was sweat­ing the grief out of my pores, so the more I walked, the bet­ter I felt – phys­i­cally and mentally.
But when I started hav­ing prob­lems with Plantar Fasciitis a cou­ple of years ago, I really got out of the habit of even doing my 2 mile walks per day, then I started hav­ing prob­lems with my blood pres­sure and even­tu­ally, with bal­ance, which caused a cou­ple of nasty falls. It took months for my feet and ankles to heal from those.
As I've pointed out many times as well, I just don't have to spend the time clean­ing that I did in the city. There is no huge kitchen floor to mop and no large Kirby vac­uum to haul up and down the stairs.
Put that together with my age (I joined Club 5–0 in December) and I weak­ened pretty quickly. My friend, Sheryl Kraft, a health writer who focuses on boomer issues, says that women lose about ½ pound of mus­cle per year after age 40, more if she's not active.
After read­ing her post, How Exercise can Preserve your Muscles (and much more), I real­ized that some of the weak­ness and bal­ance issues I was expe­ri­enc­ing may not have all been caused by my blood pres­sure meds (which I am now off of), but some of it was most likely due to lack of exercise.
Earlier this month on our anniver­sary, we went to a kayak­ing class and I was thor­oughly embar­rassed when I could not only get out of the kayak the "approved" way, but my weak­ened hip gave out and I had to lit­er­ally slide out of the boat and sit on my butt to get foot­ing with my good leg. I just hope no one was tak­ing video with their cam­era phone and post­ing it to YouTube.
The next week­end, we took our fish­ing boat out and I couldn't get in it with­out a boost from Dale.
I'm back at it now, walk­ing at least 2 miles a day with the dogs, doing leg bends and lift­ing weights while watch­ing tele­vi­sion at night.
My mother prac­ticed yoga until she was in her mid-50s. She always said as she grew weaker when she aged that she wished she had kept at it for bet­ter strength and bal­ance. I'm also going to start prac­tic­ing some yoga bends that will help me con­tinue to strengthen my back (it was injured in a rear end car wreck over 20 years ago).
So, heads up Living Largers over 40, you may not get the exer­cise doing every­day activ­i­ties you once did in a larger home. A con­sci­en­tious effort for exer­cise should be in your down­siz­ing plan.
Have you thought about the exer­cise you get now in a larger home (or got) and taken into con­sid­er­a­tion you may get less by liv­ing in a smaller space?