It has been unusu­ally cool at Our Little House this week, but we've been enjoy­ing the fall-like tem­per­a­tures, which have allowed us to open the win­dows and be out­side more.
I'm still strug­gling with con­tainer gar­den­ing. I expanded it a lot last year with no more suc­cess than I had with just a few pots. This year, I only have one larger tomato and one cherry tomato plant.
I also grew cilantro earlier.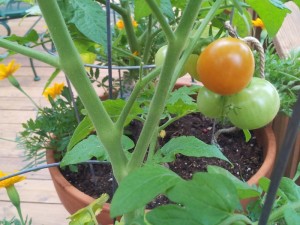 This lit­tle pink beauty already turned and is in my belly and we'll be enjoy­ing the oth­ers in sal­ads soon.
I could grow any­thing, it seemed, in the rich soil of Kansas. In our yard here, the only thing that will grow is rocks. Container gar­den­ing is much harder, I think.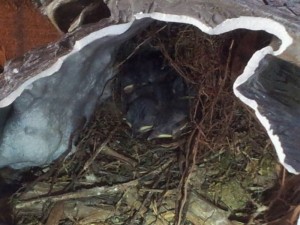 On another note, our lit­tle wren hatched her sec­ond set of babies this week. I had no idea that they typ­i­cally have two broods each sea­son. This is the first time she's came back to lay her sec­ond set of eggs at the house.
She tried putting her nest in my water­ing can on the Party Deck, but I dis­cour­aged that by cov­er­ing it, so I guess she decided to return to her first nest on the cov­ered front porch.
So, once again, we've blocked off the porch from the dogs and we are all using the back door so she can raise her babies in rel­a­tive peace and safety.
Have you got­ten this nice July weather break? Have you been spend­ing more time outside?