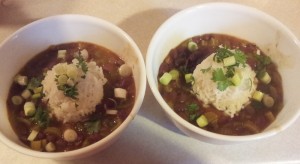 Summer has arrived, it is hot and humid and this year, I'm lov­ing every moment of it.
It was a long win­ter and a cool, wet spring. It was still cool and rainy last week and I got hun­gry for some clas­sic red beans and rice.
I had a friend in col­lege who hailed from Louisiana and she made the best jam­bal­aya I've ever tasted.
After she moved and I raided the freezer of the last of the huge batch she made me before she left, our red beans and rice and jam­bal­aya have con­sisted of the boxed variety.
I know, but that was before. This is now.
I looked online for a vegan red beans and rice recipe and found this one.
I knew I would be mak­ing this dur­ing the week so I didn't want to bother with soak­ing beans and going through a long cook­ing process.
So, here is the recipe I came up with.
Dale rated it a "keeper" and only asked why it had no sausage once!
Of course, every­thing I used was organic, includ­ing the canned red beans. I could have used some Cajun sea­son­ing I have, but Dale's been com­plain­ing that my dishes are too spicy. So, I used the "Forward" blend of spices from Penzeys.
If you don't have this, use a mix of black pep­per, thyme, rose­mary, basil and paprika. We like lots of black pep­per, so you can play with this recipe and make it hot­ter or use less pepper.
Living Large Vegetarian Red Beans and Rice (makes about 4 servings)
1 medium sweet onion, diced
3 stalks of cel­ery, cut thin
3 cloves of gar­lic, minced
1 medium bell pep­per, diced
¾ box of veg­etable broth
2 cans of red beans
3 green onions, sliced
2 tbsp. chopped fresh cilantro (I used some from our garden)
1 ½ tbsp. Forward! Spice by Penzeys
1 tbsp. of fresh ground black pepper
1 pinch of cayenne pepper
1 cup uncooked (makes 1 ½ cup cooked) jas­mine rice
Sautee your diced onions, green pep­per, cel­ery and gar­lic in 1 tbsp. of water (you can use olive oil, but I don't typ­i­cally any­more, water works just as well and doesn't add the fat).  After a cou­ple of min­utes, add in the veg­etable broth, red beans, black and cayenne pep­per and spices.
Simmer for about 30 min­utes, stir­ring occa­sion­ally to make sure it is thick­en­ing. Smash some of the beans against the side of the pot.
In a sep­a­rate pot, cook your rice accord­ing to direc­tions. Let your bean mix­ture con­tinue to sim­mer and thicken.
When it is at the desired con­sis­tency, (total cook­ing time about 45 min­utes), take a ladle and spoon some into each bowl.
Take an ice cream scoop and place 1–2 scoops of rice in the mid­dle of each bowl. Sprinkle with green onion and cilantro.
Serve with bis­cuits or corn bread.
What is your favorite Cajun recipe?