Living Large Vegetarian Red Beans and Rice Recipe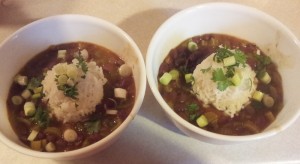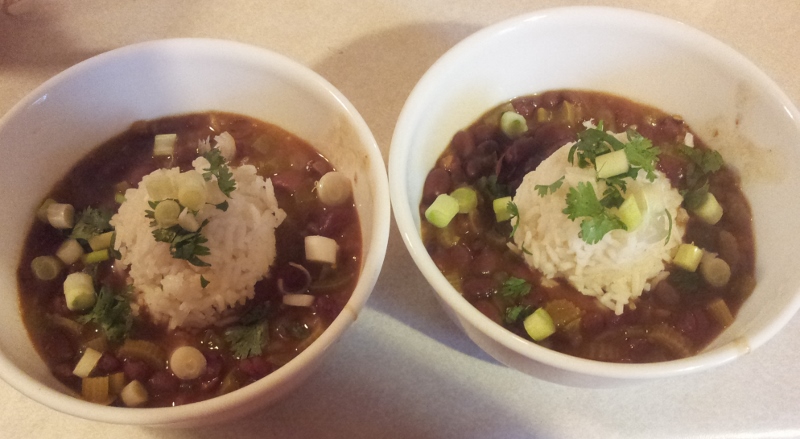 Summer has arrived, it is hot and humid and this year, I'm loving every moment of it.
It was a long winter and a cool, wet spring. It was still cool and rainy last week and I got hungry for some classic red beans and rice.
I had a friend in college who hailed from Louisiana and she made the best jambalaya I've ever tasted.
After she moved and I raided the freezer of the last of the huge batch she made me before she left, our red beans and rice and jambalaya have consisted of the boxed variety.
I know, but that was before. This is now.
I looked online for a vegan red beans and rice recipe and found this one.
I knew I would be making this during the week so I didn't want to bother with soaking beans and going through a long cooking process.
So, here is the recipe I came up with.
Dale rated it a "keeper" and only asked why it had no sausage once!
Of course, everything I used was organic, including the canned red beans. I could have used some Cajun seasoning I have, but Dale's been complaining that my dishes are too spicy. So, I used the "Forward" blend of spices from Penzeys.
If you don't have this, use a mix of black pepper, thyme, rosemary, basil and paprika. We like lots of black pepper, so you can play with this recipe and make it hotter or use less pepper.
Living Large Vegetarian Red Beans and Rice (makes about 4 servings)
1 medium sweet onion, diced
3 stalks of celery, cut thin
3 cloves of garlic, minced
1 medium bell pepper, diced
¾ box of vegetable broth
2 cans of red beans
3 green onions, sliced
2 tbsp. chopped fresh cilantro (I used some from our garden)
1 ½ tbsp. Forward! Spice by Penzeys
1 tbsp. of fresh ground black pepper
1 pinch of cayenne pepper
1 cup uncooked (makes 1 ½ cup cooked) jasmine rice
Sautee your diced onions, green pepper, celery and garlic in 1 tbsp. of water (you can use olive oil, but I don't typically anymore, water works just as well and doesn't add the fat).  After a couple of minutes, add in the vegetable broth, red beans, black and cayenne pepper and spices.
Simmer for about 30 minutes, stirring occasionally to make sure it is thickening. Smash some of the beans against the side of the pot.
In a separate pot, cook your rice according to directions. Let your bean mixture continue to simmer and thicken.
When it is at the desired consistency, (total cooking time about 45 minutes), take a ladle and spoon some into each bowl.
Take an ice cream scoop and place 1-2 scoops of rice in the middle of each bowl. Sprinkle with green onion and cilantro.
Serve with biscuits or corn bread.
What is your favorite Cajun recipe?