If You're Fridge is Running, You'd Better Catch it!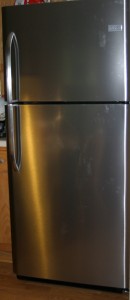 You remember the old crank phone call gag when silly kids called people and asked, "Is your refrigerator running?" When the person on the other line said, "Well, yes," the response was, "You better catch it before it gets away!" Click.
I know, it was funnier when we were 12 at slumber parties.
If we had gotten that call this past weekend or two other times in the 11 years since we built Our Little House, our answer could have been, "No!" maybe with an explicative thrown in because I personally think having to buy 3 refrigerators in 11 years is a bit excessive.
When we rented our first duplex in 1985, we bought a store brand from Montgomery Wards, along with a 2 year extended warranty. Sometime in the spring of 1988, just after the warranty expired, we went on a weekend camping trip only to come home and find the refrigerator completely warm and all of our food ruined.
I called our local "Monkey Wards" (as my mom used to call the store) to complain and chided myself for going with my husband's family's preferred department store instead of sticking with Sears Kenmore, as my parents always had.
Since the warranty had only been expired for a couple of months and the manager agreed that an appliance should last more than 2 years anyway (besides probably feeling a little sorry for a young, newly married couple who just lost their entire refrigerator full of food), he sent out a repairman who replaced the entire compressor for nothing.
Fast forward to July 2007 when we moved to Our Little House. That same refrigerator, then 22 years old, was still going strong and we sold it for $50.
My, have times have changed. In 2008, just 5 years into the life of our Maytag refrigerator here, the freezer stopped working. Now, 6 years later (hey, we got one more year out of the second one!) the Kenmore refrigerator we replaced the Maytag with suddenly quit cooling. The temperature in the fridge soared to 50 degrees on Friday. Dale messed with it and got it down to 40 degrees, but on the lowest cold setting, that's as low as it would go.
Of course, when we went to shop for new ones, salespeople at Sears (where we had bought both the Maytag and Kenmore) just looked at us blankly when I said these things should be lasting longer than 5-6 years.
It's not what we wanted to spend our money on during this Summer of Fun, but although some tiny and small house people use coolers, a refrigerator is one of those "must haves" for us.
We were told the best brands are LG and Samsung, but we were limited due to having to have a small fridge for our little space. So, heads up if you're planning a little house, you will be limited on appliances.
The salesman who talked up this new Frigidaire said power surges are the most common cause of refrigerators going on the fritz in these parts, but didn't know if we should use a surge protector (or if we can).
At least Dale finally agreed to ditch the black appliances and go with the new non-smear stainless steel, which looks much better with the industrial brushed steel light fixtures in the kitchen.
What do you think the problem with our refrigerators could be, surges or just poor quality anymore?