Summer of Fun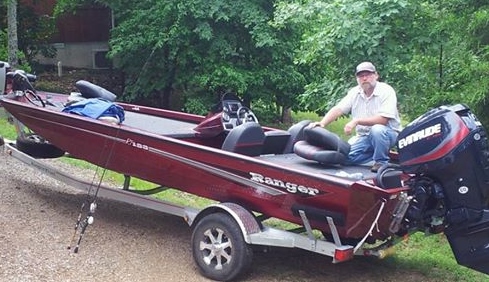 I awoke with a song in my head one day a few weeks ago, a song from my childhood, "Oh, What a Beautiful Morning," and haven't been able to get it out of my head since.
Remember those summer days as a child, running and playing in freshly mowed grass or riding your bike on your block until the street lights came on or the mothers stepped onto the stoop and called us home?
As we got older, being allowed to go to the community pool with our friends, or maybe down to the creek for a swim?
That feeling when you are tired (in a good way) at the end of a carefree day from too much play and sun?
Of course, we all have to grow up and those carefree, sun-kissed days are gone.
When we moved down to Our Little House, I longed for the "lake life," an adult version of those days with easier access to boating and fishing, hiking, kayaking, swimming and all things outdoors.
We jumped in, literally, by renting a canoe on the Buffalo River that only took me minutes to overturn.
The recession then hit, which limited us in time (we were working more hours for less through two layoffs and a steep decline in my business) and money.
We eventually became stuck in a rut.
"Sometimes we kind of forget why we moved here in the first place and then we get out here and we remember," my husband told a friend while the three of us floated on the lake enjoying some of the most beautiful scenery that can be found in the world. "It just doesn't happen often enough."
I had already declared 2014 "The Summer of Fun" before the weekend, vowing to allow ourselves the time and resources necessary to enjoy all of the great outdoor activities there are to enjoy here.
The result of the first unofficial weekend of summer was three days full of good food, some adult beverages and good conversation on The Party Deck, plenty of rides on the ATV and a borrowed boat (ours is still in need of repair).
Best of all, those feelings I had as a kid at the end of the day came back.
Those feelings before having to make money or complete tasks related to adult responsibility took over.
The only goal on those days was to enjoy life.
It's that feeling that most of us leave behind as children and some of us forget. If we do catch it in our grasp as adults, it's only fleeting while on vacation.
How lucky we are to live in a place where we can capture that feeling again, at our our own private cabin in the woods where it is a beautiful morning everyday.
What are your plans to make 2014 a Summer of Fun?