My Letter to Trader Joe's Would be that I Never Felt you From the Start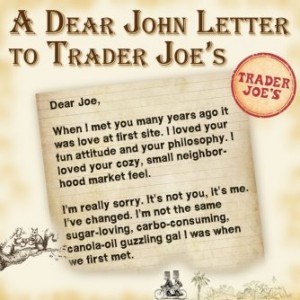 When we visited Kansas City during one of our trips home last year, I was so excited to shop at the city's new addition: Trader Joe's.
For years, I had heard about what a fantastic store this was, especially if you are eating healthy. I had even received some fair trade Trader Joe's coffee one year for a gift.
We brought coolers and I was prepared to fill my cart with fresh organic produce and shop for healthy alternatives that our rural, locally owned natural food stores don't carry.
When I lived in the city, we did have a Whole Foods, but I had long boycotted them for a myriad of social infractions, including how they treat their workers and the fact that they (at the time) would not support labeling GMOs or inform people when their products carried them.
Our Trader Joe's stop was our last errand on our way out of town – I wanted all of those good foods to remain as fresh as possible – and so I entered the store with great expectations.
(Insert fail buzzer here).
Instead of finding a great selection of organic, locally grown produce, I found a section smaller than our tiny natural food stores. I couldn't even find most produce organic that was on the Dirty Dozen list.
Not only that, but the people in this store were crazed. Typically, in a regular grocery store, there is a route most people tend to follow, first toward the produce and then around the store.
Not at this Trader Joe's. People were frantically pushing their carts every which way. It's bad enough to be in a store when it's crowded, but when people are actually frantically running up and down the aisles willy-nilly, it is unbearable.
After seeing the tiny section of produce, I pretty much lost interest, but I did stay long enough to notice they had aisles and aisles of processed, sugar-laden food and candy, most of it bearing their logo and name.
I think we spent less than $10 in the store. We returned home without our week's worth of groceries, which meant another trip to town for me to our natural food stores, where I can get locally grown, organic produce.
So, when I saw this open Dear John letter on Eat Local Grown breaking up with Trader Joe's, I had to laugh.
My Dear John letter to Joe would have went something like this:
Dear Trader Joe,
Please quit stalking me on Facebook. Although you lured me out with sweet promises of calm, healthy living in a tropical paradise, I instead found you a bit full of yourself (since your name was everywhere) and full of everything else.
I also think a relationship with you would be too drama filled for me. I'll stick with what I have, although predictable and sometimes boring, at least I know what to expect.
Sorry, I'm just not into you.
Best to you and all of your other paramours.
What do you think about Trader Joe's, love it or hate it?