The Miracle of Apple Cider Vinegar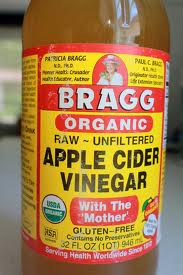 If you've read Living Large for a while, you know that I'm all about natural solutions if at all possible.
Last year, I was diagnosed with high blood pressure and I was put on a beta blocker to help. I'm grateful for modern medicine, my father died of a sudden heart attack at 58 and I sure do not want to follow in his footsteps.
However, with every medication there is to help our symptoms, the medicine sometimes creates more unwanted side effects.
For me, it was a lack of energy, digestion problems and the inability to lose weight, although I have been on a very healthy vegan diet for over a year.
Enter apple cider vinegar.
Both of my doctors (in Eastern and Western medicine) recommended apple cider vinegar for a myriad of ailments.
I started drinking a tablespoon diluted in water whenever I had stomach issues, but didn't start drinking it on a daily basis until a couple of months ago when I suffered a blood pressure spike.
Within two hours, my blood pressure was normal and has read normal everyday since.
Apple cider vinegar is not only good for digestion and blood pressure, but also for the skin, bringing you more energy and there are some studies that suggest it also helps people with Type II Diabetes.
I have felt better since taking it, I've had more energy and I've also added it to my skin care routine.
This website lists some of the health benefits.
If you start drinking it, make sure to buy organic, unfiltered with the mother. I use Bragg's.
Do you drink apple cider vinegar? Can you tell a difference in your health?