Produce Dirty Dozen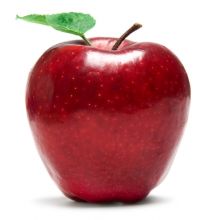 The Environmental Working Group (EWG) released its 2014 list of The Dirty Dozen today.
What does this have to do with Living Large? For us, living as sustainable as possible goes hand in hand with our lifestyle.
We buy organic when we can. Sometimes, that isn't possible, either due to availability or price. That's when I refer to my Dirty Dozen list to see if we want the produce bad enough to risk the extra pesticide intake.
For example, I will never buy a head of lettuce or apples that are not organic, but I buy avocadoes that are conventionally grown, because they are part of the Clean 15.
"The EPA has not complied in full with the Congressional mandate, for more than a decade EWG has stepped in to fill the void by publishing its Shopper's Guide to Pesticides in Produce.  EWG aims to help people eat healthy and reduce their exposure to pesticides in produce."
"EWG's Shopper's Guide helps people find conventional fruits and vegetables with low concentrations of pesticide residues," said Sonya Lunder, EWG's senior analyst and principle author of the report.  "If a particular item is likely to be high in pesticides, people can go for organic."
The guide ranks 48 popular fruits and vegetables based on an analysis of 32,000 samples tested by U.S. Department of Agriculture and the federal Food and Drug Administration.
In the latest report, 65 percent of the samples analyzed tested positive for pesticide residues.
For the fourth year in a row, apples topped the list of produce with the most pesticides. "Conventionally-grown apples have high concentrations of pesticides, primarily because of chemicals applied to the crop after harvest to preserve their appearance during long months of cold storage. EWG analysts reported last week that diphenylamine, or DPA for short, an antioxidant that prevents apple skin from discoloring during storage, was detected on more than 80 percent of raw apples in 2010, the most recent year they were tested. In 2012, DPA was banned for use on fruit grown in the European Union because of concerns it could form cancer-causing nitrosamines."
Key findings:
· The average potato had more pesticides by weight than any other food.
· A single grape tested positive for 15 pesticides. Single samples of celery, cherry tomatoes, imported snap peas and strawberries tested positive for 13 different pesticides apiece.
· Some 89 percent of pineapples, 82 percent of kiwi, 80 percent of papayas, 88 percent of mango and 61 percent of cantaloupe had no residues.
The 2014 Dirty Dozen:
Apples
Strawberries
Grapes
Celery
Peaches
Spinach
Sweet bell peppers
Imported nectarines
Cucumbers
Cherry tomatoes
Potatoes
Imported snap peas
In addition, leafy greens, such as collard greens and kale and hot peppers are typically contaminated with pesticides.
The Clean 15 (These were found to have no more than 4 residual pesticides):
Avocadoes
Corn (this takes into account pesticide only, not if they are GMO. If you want GMO free, you still need to buy organic.
Pineapples
Cabbage
Frozen sweet peas
Onions
Asparagus
Mangos
Papaya
Kiwi
Eggplant
Grapefruit
Cantaloupe
Cauliflower
Sweet Potatoes
Do you pay attention to the Dirty Dozen/Clean 15 Lists when shopping?