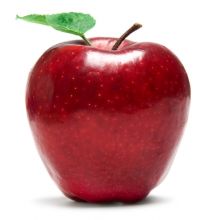 The Environmental Working Group (EWG) released its 2014 list of The Dirty Dozen today.
What does this have to do with Living Large? For us, liv­ing as sus­tain­able as pos­si­ble goes hand in hand with our lifestyle.
We buy organic when we can. Sometimes, that isn't pos­si­ble, either due to avail­abil­ity or price. That's when I refer to my Dirty Dozen list to see if we want the pro­duce bad enough to risk the extra pes­ti­cide intake.
For exam­ple, I will never buy a head of let­tuce or apples that are not organic, but I buy avo­ca­does that are con­ven­tion­ally grown, because they are part of the Clean 15.
"The EPA has not com­plied in full with the Congressional man­date, for more than a decade EWG has stepped in to fill the void by pub­lish­ing its Shopper's Guide to Pesticides in Produce.  EWG aims to help peo­ple eat healthy and reduce their expo­sure to pes­ti­cides in produce."
"EWG's Shopper's Guide helps peo­ple find con­ven­tional fruits and veg­eta­bles with low con­cen­tra­tions of pes­ti­cide residues," said Sonya Lunder, EWG's senior ana­lyst and prin­ci­ple author of the report.  "If a par­tic­u­lar item is likely to be high in pes­ti­cides, peo­ple can go for organic."
The guide ranks 48 pop­u­lar fruits and veg­eta­bles based on an analy­sis of 32,000 sam­ples tested by U.S. Department of Agriculture and the fed­eral Food and Drug Administration.
In the lat­est report, 65 per­cent of the sam­ples ana­lyzed tested pos­i­tive for pes­ti­cide residues.
For the fourth year in a row, apples topped the list of pro­duce with the most pes­ti­cides. "Conventionally-grown apples have high con­cen­tra­tions of pes­ti­cides, pri­mar­ily because of chem­i­cals applied to the crop after har­vest to pre­serve their appear­ance dur­ing long months of cold stor­age. EWG ana­lysts reported last week that dipheny­lamine, or DPA for short, an antiox­i­dant that pre­vents apple skin from dis­col­or­ing dur­ing stor­age, was detected on more than 80 per­cent of raw apples in 2010, the most recent year they were tested. In 2012, DPA was banned for use on fruit grown in the European Union because of con­cerns it could form cancer-causing nitrosamines."
Key find­ings:
· The aver­age potato had more pes­ti­cides by weight than any other food.
· A sin­gle grape tested pos­i­tive for

15

pes­ti­cides. Single sam­ples of cel­ery, cherry toma­toes, imported snap peas and straw­ber­ries tested pos­i­tive for

13

dif­fer­ent pes­ti­cides apiece.
· Some

89

per­cent of pineap­ples,

82

per­cent of kiwi,

80

per­cent of papayas,

88

per­cent of mango and

61

per­cent of can­taloupe had no residues.
The 2014 Dirty Dozen:
Apples
Strawberries
Grapes
Celery
Peaches
Spinach
Sweet bell peppers
Imported nec­tarines
Cucumbers
Cherry toma­toes
Potatoes
Imported snap peas
In addi­tion, leafy greens, such as col­lard greens and kale and hot pep­pers are typ­i­cally con­t­a­m­i­nated with pesticides.
The Clean 15 (These were found to have no more than 4 resid­ual pesticides):
Avocadoes
Corn (this takes into account pes­ti­cide only, not if they are

GMO

. If you want

GMO

free, you still need to buy organic.
Pineapples
Cabbage
Frozen sweet peas
Onions
Asparagus
Mangos
Papaya
Kiwi
Eggplant
Grapefruit
Cantaloupe
Cauliflower
Sweet Potatoes
Do you pay atten­tion to the Dirty Dozen/Clean 15 Lists when shopping?