"Winter must be cold for those with no warm mem­o­ries." ~From the movie An Affair to Remember
I was sit­ting in Our Little House this week­end enjoy­ing the warmth of the wood stove and look­ing out onto the 10.5 inches of snow when a crav­ing from a long time past hit me.
Russian Tea. There was noth­ing that would make me hap­pier than a nice, hot cup of Russian Tea.
I don't remem­ber if my mother received a jar as a gift or if she got the recipe, as she did so many ideas then from Country Living Magazine, but I do remem­ber it was Christmas 1979 when I believe she first started mak­ing it.
We had moved that sum­mer from Our Little Bungalow into my mom's dream home, a turn of the cen­tury brick Tudor with a ceramic tile roof.
It wasn't a man­sion, by any mea­sure, but it was one of the largest homes in our rail­road com­mu­nity, built by the man who founded both the bank and the gen­eral store.
It sat on a half-acre cor­ner lot and with its orig­i­nal leaded glass win­dows and built in book­cases, china cab­i­nets and chan­de­liers, it was a gor­geous home.
Restoring the old home to its for­mer glory allowed my mother's cre­ative abil­ity to really shine, in her dec­o­rat­ing and in the kitchen.
1979–80 was a cold, snow filled win­ter. I remem­ber my dad walk­ing the few blocks to his rail­road job sev­eral times because the roads were snow packed.
It was a per­fect win­ter to enjoy the lemony orange good­ness of Russian Tea, which became a sta­ple in my mother's kitchen.  It could always be found in one of her antique tins on her counter.
If you've never had Russian Tea, it is a sug­ary mix­ture of orange Tang, pre-sweetened Country Time Lemonade, instant tea, cin­na­mon and cloves.
It's a rusty orange color when mixed with hot water (Dale always said the color reminded him of old car radi­a­tor water), but is oh, so good on a cold day, espe­cially when one is fight­ing off a cold or flu.
The win­ter our German daugh­ter, Steffi, lived with us, was also a cold one. I intro­duced her to the tea and we would enjoy it while munch­ing on German cook­ies her fam­ily sent us from Munich.
I'm a cof­fee gal now. I don't remem­ber when or why I stopped drink­ing Russian Tea. It was prob­a­bly a mix­ture of my resolve to eat/drink health­ier and my loss of taste for most things sweet (except choco­late). But, as my holis­tic doc­tor has said to me, "Sometimes you just have to go for the com­fort foods. Go with it!"
It's not some­thing I would drink every­day, but a cup now and then this cold win­ter will not hurt.
So, this week­end, I will buy the ingre­di­ents and also get a few lit­tle mason jars and give some Russian Tea as gifts this hol­i­day sea­son, as it does make a really nice lit­tle fam­ily present, or small gift for a friend, teacher, neigh­bor, etc.
Don't for­get to tie a pretty rib­bon around the top and include the recipe!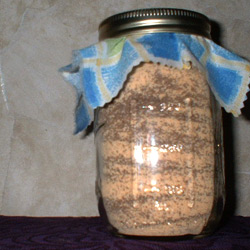 Russian (also called Friendship) Tea
½ cup instant tea powder
1 cup pre-sweetened Country Time Lemonade mix
1 cup orange fla­vored Tang
1 tsp. ground cinnamon
½ tsp. ground cloves
Mix together in a large mix­ing bowl. Place in an air­tight con­tainer. Make by the cup by putting 2–3 tsp. of mix into a cup of boil­ing water. Will keep with­out clump­ing for 2–3 months. 
Have you ever had this tea?