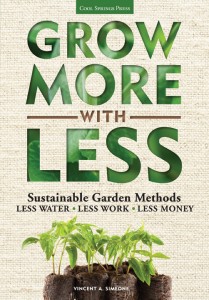 In the win­ter, most of us can­not gar­den, but we can read about gar­den­ing and that's almost as good!
Today, Vincent Simeone, author of Grow More With Less gives Living Largers some tips on build­ing a sus­tain­able garden.
Simeone says that sus­tain­able gar­den­ing doesn't have to lead to a mas­sive gar­den over­haul. In his book, he makes sus­tain­able gar­den­ing acces­si­ble to all. His the­ory is you should, "make your gar­den work for you. Make it give more than it takes."
He sug­gests cre­at­ing big projects mixed with plenty of smaller projects that give big rewards.
Three of his ideas on how to do this:
The Lawnless gar­den. Take out the lawn and replace it with low grow­ing, weed sup­pres­sive ground­cov­ers that are orna­men­tal and low main­te­nance. Sedum, liri­ope, sedges and other ground­cov­ers could be used very effec­tively. No mow and lit­tle water use.
Using Native grasses rather than tra­di­tional orna­men­tal grasses. There are many non-native grasses such as mis­cant­hus and pen­nese­tum that are becom­ing inva­sive and they can be replaced with some good native species such as switch grass and blue stem.
Building your own rain gar­den: This could be a good "how to" on how to iden­tify an area of the gar­den that would be appro­pri­ate for a rain gar­den, how to build it, what plants to use and its benefits.
Want to read more this win­ter? Well, you can def­i­nitely buy the book, but you can also try to win it here, too.
Here's all you have to do to enter:
Comment on this post on why you would like to win this book by Monday, December

16

at noon

CST

 (

US

).
Increase your chances by enter­ing again. "Like" the Living Large Facebook page. If you're already a Living Larger on Facebook, you can still get a dou­ble entry by "lik­ing" the post about this give­away on Facebook

and

shar­ing the post from the Living Large page with your friends (you'll also have to leave a com­ment on

FB

that you did these things so I know to give you another entry).
You must leave your email address in your com­ment so I may notify you if you win, or send me an email by December

18

with your con­tact info.
This give­away is good for any Living Larger, any­where. Good luck!