Grow More with Less Book Giveaway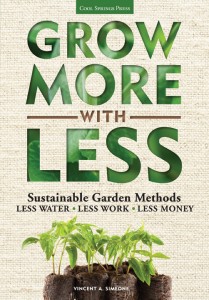 In the winter, most of us cannot garden, but we can read about gardening and that's almost as good!
Today, Vincent Simeone, author of Grow More With Less gives Living Largers some tips on building a sustainable garden.
Simeone says that sustainable gardening doesn't have to lead to a massive garden overhaul. In his book, he makes sustainable gardening accessible to all. His theory is you should, "make your garden work for you. Make it give more than it takes."
He suggests creating big projects mixed with plenty of smaller projects that give big rewards.
Three of his ideas on how to do this:
The Lawnless garden. Take out the lawn and replace it with low growing, weed suppressive groundcovers that are ornamental and low maintenance. Sedum, liriope, sedges and other groundcovers could be used very effectively. No mow and little water use.
Using Native grasses rather than traditional ornamental grasses. There are many non-native grasses such as miscanthus and pennesetum that are becoming invasive and they can be replaced with some good native species such as switch grass and blue stem.
Building your own rain garden: This could be a good "how to" on how to identify an area of the garden that would be appropriate for a rain garden, how to build it, what plants to use and its benefits.
Want to read more this winter? Well, you can definitely buy the book, but you can also try to win it here, too.
Here's all you have to do to enter:
Comment on this post on why you would like to win this book by Monday, December 16 at noon CST (US).
Increase your chances by entering again. "Like" the Living Large Facebook page. If you're already a Living Larger on Facebook, you can still get a double entry by "liking" the post about this giveaway on Facebook

and

sharing the post from the Living Large page with your friends (you'll also have to leave a comment on FB that you did these things so I know to give you another entry).
You must leave your email address in your comment so I may notify you if you win, or send me an email by December 18 with your contact info.
This giveaway is good for any Living Larger, anywhere. Good luck!