Learning to be Keen on Kale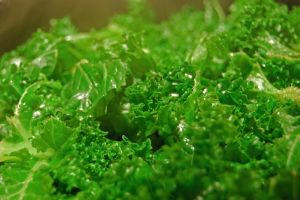 I admit, I wasn't a big kale lover, as a matter of fact, I didn't like it at all.
It wasn't the texture, which a friend of mine says reminds her of a garnish placed on your plate that is meant not to be eaten.
In an effort to get more dark green leafy veggies, I made a kale salad once last year. The thing I didn't know was that it will taste bitter if you don't strip the leaves from the stem.
After attending a vegan cooking class last month, I not only learned how to strip it from the stem easily (start at the bottom and just strip it away), but how to prepare massaged kale for fresh salads by putting a little olive oil and massaging the leaves to make them softer.
As I've continued on this journey of eating about a 90-95% plant based diet, I've learned the most important thing is to get a variety of veggies in my diet, as they all are like pieces to a puzzle, providing different vitamins and nutrients we all need.
As it turns out, kale is like a super food and among other things, provides a large portion of calcium (spinach also contains calcium, but our bodies will not allow us to absorb it from that plant).
In the past month, I've also learned I need to get more iodine into my system, thanks to an enlarged, but perfectly functioning thyroid.
The best way to do that is to get it through seaweed, which is perfect, as I love seaweed, nori (used to make sushi rolls) and seaweed snacks I've found at the health food store, which as the package indicates, is "strangely addictive."
One of my favorite lunches was an idea given to me by my vegan cooking instructor and I've been having it at least a couple of times a week for lunch:
Seaweed Wraps
1 avocado, sliced into thin pieces
½ small cucumber, sliced into thin pieces
Several kale leaves, stripped from the stem
A few black beans, rinsed and drained
3 tblsp. of soy sauce
Dash of lemon juice
Garlic Salt to Taste
Fresh Ground Pepper to Taste
2 Pieces of Nori Paper
Mix soy sauce and lemon juice together and set aside. Sprinkle the garlic salt and pepper on the avocado slices. Pour the soy sauce, lemon juice mixture over the kale leaves and cucumber. As you're ready to eat (because if you leave it sit, it will get soggy), wrap some of the avocado, cucumber, black beans and kale into a pieice of nori paper. I "seal" it by putting a dab of the avocado on the seam and fold up the bottom. Eat like a burrito. Makes 2-3 wraps.
Did you know the factoid about not being able to absorb calcium from spinach? What interesting ways have you found to incorporate kale into your diet?