A Girlfriend's Getaway at Big Cedar Lodge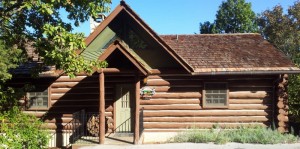 Last weekend was my annual Slumber Party weekend with my friends from my hometown. It's hard to believe it's been five years since we reunited here at Campbell Town after I last saw them at our high school graduation 27 years prior.
I wrote last year about how we laugh – a lot – and a part of us feels like we're young again when we're together.
Each year, we do something a little different to celebrate our annual reunion.
This year, we met in Branson, Missouri at The Branson Landing, where we had lunch, did a little shopping at some of the fantastic stores (Yankee Candle, of course!) and headed out to the fabulous cabin resort, Big Cedar Lodge, where we planned to kick back in a two bedroom cabin for our girlfriend's getaway.
Big Cedar is just eight miles away from Branson, located on 3,000 acres.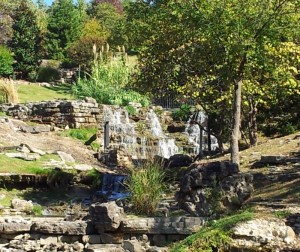 By the time we checked in and settled into our lovely log cabin, it was time for our pre-scheduled massages in the resort's spa. What's a girlfriend's getaway without some spa time? And this was a perfect relaxing way to start our weekend.
Afterward, our plan was to order take out, bring it back to the cabin and catch up in our PJs with some wine and the comfort of a warm fire.
One of the bonuses of staying at Big Cedar is the shuttle service, which will take you from your accommodations to any place on the property, so we didn't have to drive (except when we left for a nature tour the next day) the entire weekend.
Big Cedar also has three restaurants and a bar, offering guests plenty of dining and entertainment options without having to leave the property.
Proving Dale wrong, I had no problem getting the fire going in the stone fireplace (it helped someone had already set it all up for us) and we stayed up stoking the fire and yacking well into the night. It was such a cozy place to be with good friends.
Saturday was a beautiful fall day and Big Cedar is a wonderful place to explore, with scenic waterfalls and a covered bridge.
We did a little shopping at the resort's gift shop and then booked a nature tram tour to Dogwood Canyon, a nature park owned by Johnny Morris, founder of Bass Pro Shops.
It was well worth the price of the ticket. The canyon, which is 15 minutes from Big Cedar, is set aside as a 10,000 acre nature park and is full of wildlife, woods, streams and waterfalls. Definitely something not to miss in the Ozarks, especially in the fall, when you can see the elk and hear their beautiful bugling.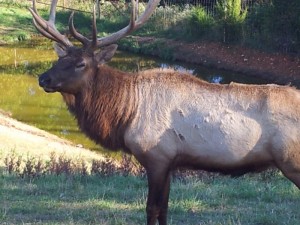 Our girlfriend's getaway the past two years has included a nice second night dinner and this year was special, as it was our 5th anniversary, so we made sure to include a champagne toast at The Worman House restaurant back at the lodge.
Our food, from the Portobello mushroom sandwich on Friday night from the Truman Coffee & Café to the fish tacos on Saturday at The Devil's Pool Restaurant and brunch there on Sunday morning, was excellent.
As always, our annual time together ended too soon. We parted back at the Branson Landing, where we had reunited for our adventure just 48 hours before. We've talked of meeting up more than once a year, but Shelly summed that idea up best when she said, "I think if we met more than once a year it might cheapen the experience."
True. But that doesn't mean we cannot extend our time together by a day, but I think even a week would be too short of a time to spend with these friends.
Do you do girlfriend getaways? Have you ever thought of renting a cabin for one?