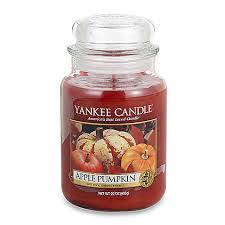 The other day, I wrote about mak­ing small changes in a small house that make things seem a lit­tle different.
In addi­tion to chang­ing bed­spreads, throw rugs and maybe the shower cur­tain, I also look for­ward to the chang­ing sea­sons with new can­dle scents.
My love of can­dles goes back to my child­hood. I always knew when we were hav­ing com­pany as my mom would have the house nice and clean when I came home from school and there would be at least a cou­ple of can­dles burning.
Although my dad couldn't stand the strong smell of can­dles in a store, my mom and I used to love a store in the mall called Wicks 'n Sticks (a quick search shows the 36 year old com­pany went bank­rupt in 2006).
These days, my can­dle of choice is Yankee Candles. They burn clean and smell oh, so good.
I love the flower scents of spring such as lilac and the clean, fresh scents of sum­mer like cot­ton and meadow show­ers. Red vel­vet cake and vanilla cup­cake are great for win­ter, but my favorite scents come out in the fall.
They're always spicy and some­times woodsy and my favorites typ­i­cally have some type of apple or pump­kin scent.
This year, Yankee's new fall lineup includes Apple Pumpkin, the best of both spicy worlds for me.
Since I use a lot of can­dles in the fall and win­ter, par­tic­u­larly when I'm writ­ing, I also splurged on a new lit­tle Halloween votive when I bought some candy corn candles.
In the Little House, I typ­i­cally use Lampe Berger if I want to just clean the air of dog smell, but in the stu­dio, it's scented can­dles all of the way.
Do you like scented can­dles? What is your favorite?