Candles Help Scent a Small Home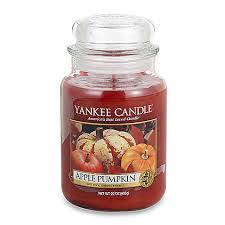 The other day, I wrote about making small changes in a small house that make things seem a little different.
In addition to changing bedspreads, throw rugs and maybe the shower curtain, I also look forward to the changing seasons with new candle scents.
My love of candles goes back to my childhood. I always knew when we were having company as my mom would have the house nice and clean when I came home from school and there would be at least a couple of candles burning.
Although my dad couldn't stand the strong smell of candles in a store, my mom and I used to love a store in the mall called Wicks 'n Sticks (a quick search shows the 36 year old company went bankrupt in 2006).
These days, my candle of choice is Yankee Candles. They burn clean and smell oh, so good.
I love the flower scents of spring such as lilac and the clean, fresh scents of summer like cotton and meadow showers. Red velvet cake and vanilla cupcake are great for winter, but my favorite scents come out in the fall.
They're always spicy and sometimes woodsy and my favorites typically have some type of apple or pumpkin scent.
This year, Yankee's new fall lineup includes Apple Pumpkin, the best of both spicy worlds for me.
Since I use a lot of candles in the fall and winter, particularly when I'm writing, I also splurged on a new little Halloween votive when I bought some candy corn candles.
In the Little House, I typically use Lampe Berger if I want to just clean the air of dog smell, but in the studio, it's scented candles all of the way.
Do you like scented candles? What is your favorite?